Kindle Being Lent Out By Librarys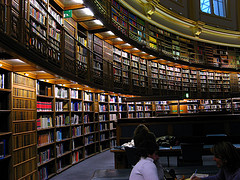 A Library in New Jersey has begun to offer Kindle's to loan out. How cool is that?
The new Kindle ebook reader from Amazon.com is certainly not oriented for the library borrowing model, given that books purchased are limited to the device itself. But that hasn't stopped the Sparta Public Library, NJ, in an affluent suburb 50 miles west of New York City, from buying two $399 Kindles and preparing to loan them to patrons. "[Director Carol Boutilier] is very proactive; she wants us to be on the leading edge of any technology," explained assistant director Diane Lapsley. Unlike many libraries, Sparta doesn't shy away from loaning devices along with content; it previously circulated iPods loaded with audiobooks as well as an earlier generation of ebook reader.
Read the full article on LibraryJournal.com… found [via]