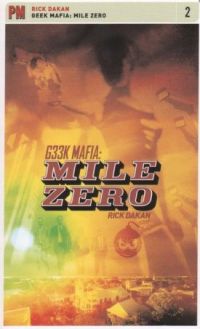 Following on from last weeks free e-book- Geek Mafia.
In this sequel to Geek Mafia Dakan takes you on a thrillride filled with conmen (and women), cross-dressing martial arts experts and a murderous plot. From start to finish the momentum will keep you on the edge of your seat wondering what will happen next. I highly recommend reading the first installment, Geek Mafia prior to this edition so you have a full understanding of the storyline. A fantastic book, I can't wait for the next release from Rick Dakan! – D. Mobley
Excerpt from the e-book:
TWO and a half hours later, Paul met Isaiah and, as it turned out, Winston at the Blue Parrot restaurant over in Bahama Village. The restaurant was one of Paul's favorites, and also one of the most popular breakfast joints on the island. Most of the dining area consisted of picnic tables spread out beneath the trees, with chickens scrambling around the mulch-covered ground while the owner's dogs prowled about hoping for table scraps. The ultra-casual setting belied a relatively sophisticated menu that included seafood eggs benedict that Paul craved at least once a week.

Even at this early hour the restaurant was crowded. This time of year, with so many tourists on the island, there would soon be an hour's wait. Most of the tables had happy diners chowing down at them. But Paul didn't see Isaiah anywhere among them. He was about to ask the hostess for a table when his phone started to vibrate in his pocket. It didn't even surprise him when he saw the number Isaiah had been using on the caller ID.

"I assume you're watching me from somewhere?" Paul said as he answered.

"Look up," Isaiah responded.

Paul looked up, first into the trees and then at the second floor of the ramshackle wooden building that housed the restaurant's kitchen and small indoor dining section. On the second floor was another dining room, one usually closed except on the most crowded mornings. He saw Isaiah standing at the top of the stairs. He'd changed into less formal attire – a pair of jeans and a simple, short-sleeve button-down red shirt. Paul nodded at him and shut off his phone as he made for the stairway.

Upstairs he found Isaiah and Winston both waiting for him at a table, along with pitchers of coffee and juice and a platter of muffins and croissants. They had the small dining room to themselves, and Paul assumed they'd paid for the privilege of not being disturbed any further.

"You found my favorite restaurant," said Paul. "You seem to know everything."

Isaiah ignored the barb. "Please, take a seat," he said, motioning to the chair across from him.
Paul nodded to Winston by way of saying hello, sat down and poured himself a cup of coffee and took a blueberry muffin from the tray. "Is there going to be a waitress coming?" he asked.

"Is there something you need?" asked Isaiah.

"Eggs. Bacon. Toast."

"If you could wait until we're finished," Isaiah said. "It shouldn't take long."

"Fine," said Paul, munching his muffin.

"So, did everything go all right at the hotel?" Winston asked. "Did you…?"

"Yeah, it went fine. We got her out of there."

"Where is she now?" Winston asked, his voice sad.

"For the moment we've got her hidden in a freezer in our backyard," said Paul. "But that's not a good long-term solution. It's not even a good short-term solution. If you could…"

"We'll help you dispose of it," said Isaiah.

"I'll take care of it," said Winston. Isaiah looked over at the old man and the two stared at each other for half a heartbeat. "She was a friend. I owe her that much." Isaiah nodded in agreement and they both turned their gazes back on Paul.
Download "Geek Mafia: Mile Zero" by Rick Dakan for your Kindle:
"Geek Mafia: Mile Zero" by Rick Dakan [.azw file]
If you haven't read the original "Geek Mafia", then you can download that here for free.