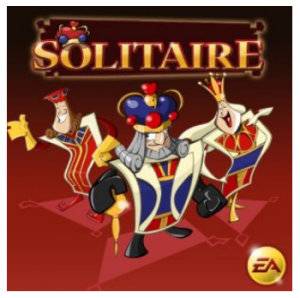 Solitaire, the game we all love to play when we're bored is now available on Kindle and Kindle DX for about 4 bucks.  The quality of the game is definitely worth the money.
The game includes twelve versions. Klondike is the most well known. It also includes Pyramid, Yukon, Golf, Freecell, Wasp, Peaks, Canfield, Spiderette, Eliminator, Easthaven, and Baker's Dozen.  So, there is a great variety to choose from.  I personally favor Freecell.  That game never gets old no matter how many times you play it.
A Couple of Neat Features to Take Note of:
Tutorial Mode – If you aren't familiar with any of the different versions of Solitaire, you can put them in Tutorial Mode.  This mode teaches you the basics of each game.  If you prefer not to use the tutorial, the "Tips" feature can help you with specific moves or rules while you play an actual game..
Auto Move – This "cheat sheet" helps you out if you're stuck and can't figure out what to do next.  Oh, what would we do about our electronics and their built in "helpers"?
My biggest question about the this game on the Kindle is reflected in one reviewer's comment: "The ONLY thing I wish they could improve on is that it's somewhat difficult (due to the black and white e-ink display) to discern which cards are "red" or "white"."  Assuming they mean "black" instead of "white," this reviewer has a good point.  It appears that the shape on the card (diamond, club, etc) are the key factors in the game rather than the color.  I wonder if future games will rely more on color, and if that would be enough to prompt Amazon (NASDAQ: AMZN) to create a color e-reader?
Based on the reviews, EA has done an excellent job creating Solitaire for the Kindle platform.  It works well for the small Kindle's display, as well as for the larger screen on the Kindle DX.  The cards are easy to move with the 5-way toggle or with keyboard shortcuts.