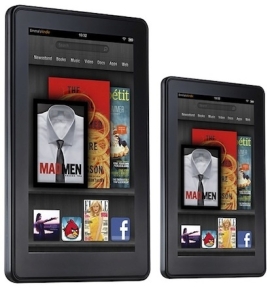 Some of the likely details regarding Amazon's upcoming Kindle Fire successor have been available for a bit now.  As we get closer to what most sources consider a highly probably launch event in July, these are naturally becoming more detailed.  Most recently, tech news site BGR has expanded on a few of the more interesting details that make the upcoming Kindle Fire an improvement on the original.
The biggest news here is that, assuming BGR has once again found a reliable source, the highly sought 10 inch Kindle Fire will be released in July at the same time as the improved 7 inch model.  While the plan when Amazon's first tablet was still in its earlier stages there were plans for the release of both 10 inch and 7 inch options.  In the interest of releasing in time to take advantage of holiday sales, they chose to concentrate on the less expensive of the two devices.  Now that some time has passed and interest has remained relatively high we will finally get to see the line filled out a bit.
The new 10 inch Kindle Fire 2 will be running a quad-core processor to offer a bit more power.  Obviously the larger screen is an improvement, but it will also be higher resolution.  Whether this means 1280 x 800 as with the 7 inch model is unknown, but it is likely that the emphasis here will be on true HD content delivery and that will influence things.
The overall build quality of the new Kindle Fire models has also apparently been improved.  While they will be thinner than the existing Kindle Fire, and slightly thinner than the original iPad, they will feature a metal case rather than the soft plastic that the older model makes use of.  A new chrome finish will be used to add highlights against the black matte we are used to, and a ribbed texture on the back will make it more comfortable to hold.  Having a more distinct appearance will definitely help with sales regardless of any other reasons for switching to a metal case.
The positioning of the speakers has been altered to some degree in order to improve the sound quality.  The 10 inch Kindle Fire 2 will also finally offer users a front-facing camera.  While not exactly the most useful of features for most people, it is one that has frequently been requested.  Both models will include a microUSB port and what is suspected to be an HDMI port.
Amazon has been aware of impending competition from Google and Microsoft on the tablet front throughout their development.  While the Kindle Fire took off immediately and conquered the Android tablet market, everybody else is catching up quickly.  That includes some like Google who can actually offer comparable media integration.  The new Kindle Fire 2 will have to be impressive to compete with not just the new competition but also the thoroughly entrenched iPad.  They can't avoid the comparison to any degree once a larger model is available for sale and it should be interesting to find out exactly how much of an improvement has been made in order to meet these challenges.
The current expected release date is July 31st.  There is no word yet on 10 inch Kindle Fire 2 pricing.  The 7 inch Kindle Fire 2 is expected to sell for $199.