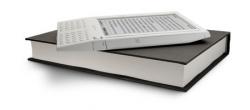 That's the number
of ebooks now available in Kindle format from the Amazon Kindle store! sweet! It was great to see the number surpass 100,000 this month, next target 1,000,000!
It's wonderful too see the variety of ebooks being sold, it's not surprising to see that Non-fiction ebooks are the favourite amongst Kindle owners at 64,432, followed by fiction at 35,522.
Other popular categories include; Science (18,134), Business & Investing (10,812), Computers & Internet (5,487), Advice & How-to (5,027) and Romance at 5,948 e-books. Curiously the Sports and Travel categories have the least amount of ebooks with 816 and 728 respectively.
Sitting proudly at number 1 is A New Earth
by Eckhart Tolle which is a bargain at $7.44 reduced from the print list price of $14.