We've been hearing rumors for months now about a larger Kindle Fire that Amazon was on the verge of releasing.  Now that there is confirmation and information more substantial than supply-line gleanings, it's probably time to start looking at whether the real thing lives up to the expectations.  Here's what the new 8.9" Kindle Fire HD looks like on paper: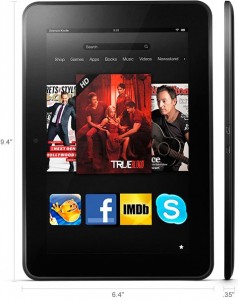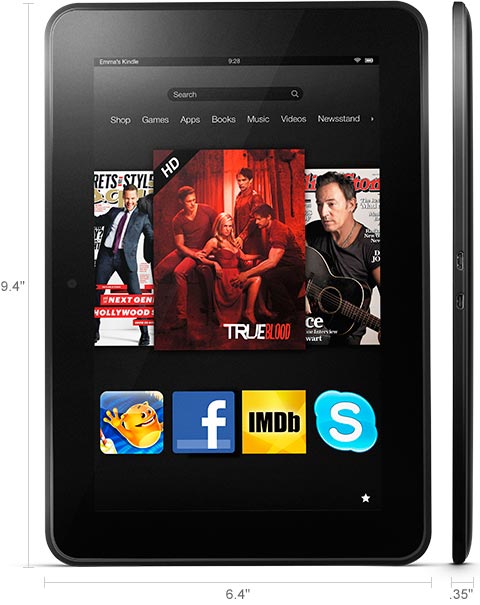 Display
8.9" IPS LCD1920x1200 Resolution

254ppi

Processor
TI OMAP4470
Storage
16GB Onboard (32GB Model Available)
Wireless
802.11 b/g/n dual-band MIMOBluetooth
Camera
Front-Facing
Battery Life
11 hours
Sound
Dolby Audio optimizationStereo Speakers
Ports
USB 2.0HDMI-out
Basically, this is a generally superior tablet in every way, compared to their previous offering.  Amazon claims that the processor in this new Kindle Fire will perform significantly better than the Nexus 7's Tegra 3, for example, which puts them at the top again in terms of balancing price and power.
The improved storage space is a big step up over the often-problematic 8GB that the older Kindle Fire came with.
Wireless issues have been addressed and the speeds that are advertised, while dependent on the networks they are connected to, are ideal for HD video streaming.
Most importantly, the comparatively large HD display and HDMI-out make this a tablet better suited to video consumption than the company's previous offering by a wide margin.  Both of these features were frequently requested over the past year and that was taken seriously.
The audio improvements may be equally impressive, but given how poor the performance has been in the past it might be better to avoid jumping to conclusions about Kindle Fire speaker quality.
As a communication tool, the front-facing camera should help a lot.  Every Kindle Fire HD will come loaded with Skype by default, tying Amazon customers into probably the most widely used internet calling service available today.
Even the battery life looks good, though that will take some hands-on experimentation to judge accurately.  So much depends on what tasks are being carried out on the device that any claim would be hard to take completely at face value.
Overall this is a strong offering that really demonstrates a commitment to continue creating excellent affordable tablets.  There are some issues on the software side of things, however, such as the advertising situation.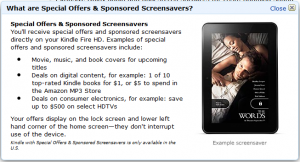 Kindle Fire tablets will now come with Special Offers.  This in itself is not a bad thing.  That's how the price has dropped so low on Kindle eReaders after all.  Unlike on the eReader, Kindle Fire Special Offers cannot be removed.  This is a major imposition for many customers, at least at the moment of purchase, and has the potential to turn a lot of people away from the product.
While I will follow up more on the ad situation and other quirks in a subsequent post, overall I still believe that the Kindle Fire HD is a good product.  The option to root the device is always there and Amazon has proven in the past that they can display ads in a way that makes them fairly unobtrusive.  It's an upsetting precedent and everybody is hoping that a change of heart will allow customers to buy out of the ads should they so desire but it isn't enough to damn the product on its own.