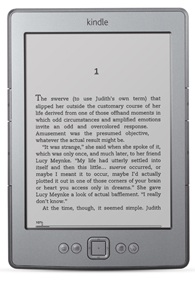 The most inexpensive member of the Kindle family has just been upgraded a bit.  Amazon has released the new 4.1.0 software update for the Ad-Supported $79 Kindle.  It comes with a few useful features that customers have been asking for as well as compatibility improvements that get the device ready for upcoming developments in Kindle books.
The update includes a new high contrast font meant to improve the reading experience.  Supposedly this will create a more "paper-like" appearance and address some of the concerns that customers have had about the basic Kindle's display quality.  How much of an improvement it is will be for you to judge.
In an effort to make the Kindle more family-friendly, Amazon has also finally introduced some Parental Controls.  These controls will allow parents to restrict access to the web browser, Kindle Store, and the account's Archived Items.  This will be a big help for anybody who keeps their family on the same account.  It should also allow for less caution in purchasing for customers otherwise worried about privacy and propriety.
Dictionaries have been given their own category by default.  This makes organization a bit simpler.  Look for "Dictionaries" in your Home and Archived Items.
Everything else that has been included in this update is meant for supporting new book features.
In book that support such things, Amazon has added improved functionality for viewing images and tables.  Panning and Zooming should be somewhat smoother as well.
More complex layout options, largely related to Kindle Format 8, are now supported.  While KF8 is still in Beta, it is already supported on the Kindle Fire and Amazon seems serious about making the transition in a timely manner.
Possibly connected to the Kindle Format 8 compatibility is the inclusion of support for Kindle Text Pop-Up and Kindle Panel View.  Children's books in the near future will begin to feature Kindle Text Pop-Up, though it is still in question whether these will be optimized for E Ink Kindles.  Color is usually the preference when we're dealing with kids.
Kindle Panel View is intended specifically for comics, which have not as yet had a major presence in eReading.  Assuming Amazon can persuade comic publishers to adopt a format so rigid as to allow each individual panel to be viewed sequentially rather than as part of a page, this will change things a bit.  In many cases the feature will already work and Panel View titles are already available through the Kindle Store.
Kindle owners should be seeing the update arrive on their device in the next couple weeks via WiFi.  If you do not have access to WiFi, keep it turned off the majority of the time, or simply don't feel like waiting then you can download the update manually.
Check out the Kindle Software Update page for more detailed instructions.  Any side-loaded updates will require a USB transfer cable and a computer with an internet connection.