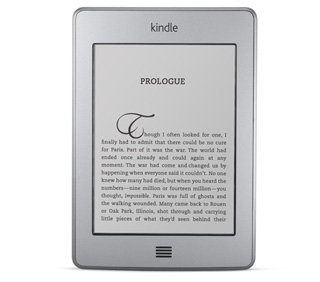 While the new Kindles have been announced, right now all we have to choose from if we want to read something right this minute are the Kindle Keyboard (formerly the Kindle 3) and the Kindle (or Kindle 4 as we were calling it to differentiate).  While neither one is a bad option at all, it wouldn't have been worth announcing new versions of the Kindle if the old ones weren't going to be exceeded in some ways.  What makes this launch unique, however, is that rather than simply improving on just about everything, such as in the jump from second to third generation devices, here we have a variety of different feature sets to choose from, each with some merit.  It seemed worth a look at the two we can get our hands on for comparison.
Superior Reading Experience: Kindle 4
As might be expected, the Kindle 4 definitely seems to offer the better reading experience.  It is smaller, lighter, slightly faster, and somehow just more comfortable to hold.  This is not to say that there is any problem with the Kindle Keyboard, but if all you care about is the feel as you flip from page to page, the Kindle 4 has an edge.  This is especially noticeable in the reduced page refresh time, though even on the Kindle Keyboard it is fast enough to be a non-issue.

Book Browsing: Kindle Keyboard
Whether you're talking about searching your library for a particular book you've been wanting to read or finding a passage in that book that you were hoping to share with some friends, it is simply easier to do on the Kindle Keyboard.  Being limited to nothing more than a directional controller and an on-screen keyboard makes that sort of thing quite tedious on the Kindle 4.  If you have a particularly large library then navigating without searching might take you quite a while. This is also, incidentally, the case when it comes to annotating your books as you read them.  Obviously, anything involving text will be simpler when you can type, though highlighting is about the same.  Of course this ease of use will likely be surpassed by the Kindle Touch, but that's a whole other blog.
Shopping & Internet Browsing: Kindle Keyboard
This essentially comes back to the same point as before.  While it is certainly possible to use the Kindle 4 to do all the things that the Kindle Keyboard can do, it is slower and more obnoxious.  Unless you are prone to buying nothing but bestsellers, for example, you're better off hopping on a computer to do your Kindle Store shopping rather than using the actual eReader.  The Kindle Keyboard also offers optional 3G coverage with full internet connectivity for life (albeit in the rather limited experimental browser) where the Kindle 4 does not, which is worth taking into consideration.
Battery Life: Kindle Keyboard
Battery life is an important factor in some ways, but might be trivial here.  If I were comparing the iPad and any Kindle device, it would be a major difference since the E INK screen allows for battery life measures in weeks rather than hours.  When comparing the Kindle 4 and the Kindle Keyboard, however, it's the difference between one month and two between charges.  I don't know about anybody else, but if I only have to charge once a month my biggest problem becomes remembering where I put the charger rather than getting the most possible life out of the battery.  I only point it out because the Kindle Keyboard is supposed to last twice as long, making it slightly superior for heavy readers or long term travel.
Adaptability to User Preferences: Kindle 4
Not only is the Kindle 4 the smaller, lighter device, it is also available to a wider audience right out the door.  By doing away with the English keyboard, Amazon gave themselves an opening to allow language changing in the device's OS.  If you like to enjoy non-English books for any reason, this can make a difference in avoiding jarring language switching while navigating.  Also, perfect for non-English speakers.  Sadly Amazon has not yet found a good way to allow customers to move from one country to another with their Kindles, which really removes some of the appeal for this feature.  We can hope that this is on the horizon, though.
Price: Kindle 4
This one is probably a bit obvious, but the Kindle 4's ad supported model is 20% cheaper than the Kindle Keyboard's.  While they are both incredibly affordable, it's a factor that many people will want to take into account.  Also, be aware that should you decide to remove the Special Offers feature from your device, it will be $10 cheaper to do so on the Kindle 4.  You are required to pay the difference between ad supported and normal models when you make the switch, which in this case makes a bit of a difference.
Summary
When it comes right down to it, these devices are hard to compare feature for feature because they are essentially the same thing.  The keyboard is nice if you're the sort of person who uses it (once you get used to it), but most people won't need it at all.  Unless you have a good use for it, need to use your eReader via 3G due to lack of WiFi connectivity, travel enough (and lightly enough) to have trouble charging more than every 6 weeks or so, or just plain hate the new aluminum casing on the Kindle 4, there isn't a compelling reason to prefer the Kindle Keyboard.  That said, if you truly want a stand alone device for reading then the Kindle 4's lack of ease in shopping might be a major problem for you.  Trying to find the book you want using the directional controller to peck at an on screen keyboard is painful and will likely put you off entirely unless you know in advance exactly what book you want to purchase.  There are definitely good cases to be made on both sides of the comparison.