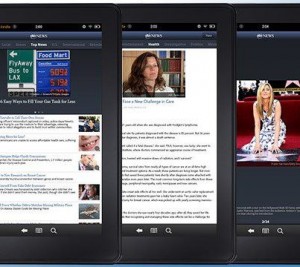 Fans of ABC News can now get their content directly from the source using their Kindle Fire without the hassle of using the website.  ABC decided it was time to optimize their Android application for the Kindle Fire in order to cater directly to owners of the most popular Android tablet to date.
What this means for users is that they can now get anything they want from ABC's recent content in a format optimized for the Kindle Fire's 7" screen.  The wider reaching implication is the vote of confidence this represents.  It might not be much of a stretch for ABC to decide that it's worth their time to work with the most widely owned budget tablet on the market, but it does count for something that they did so at a time when many are declaring the end of the Kindle Fire thanks to Google's Nexus 7 competitor.
The app itself is fairly nice.  Users get browse their news under a number of headings.  Each story is presented with both title and basic summary.  There are even images on the selection screen in cases where the story includes either photos or video.  It's quite intuitive.  These headings are presented on a looping ribbon at the top of the home screen.  By sliding the ribbon, more options become available.
These headings do include local content, show-specific content, and video selections.  That should make it easier for regular viewers to find what they need.  The shows highlighted include Good Morning America, World News, Nightline, and 20/20, among others.  Local news is available from Chicago, Fresno, Houston, LA, Minneapolis, New York, Philadelphia, Raleigh, San Francisco, and Sarasota.  General video content appears to be drawn directly from the website.
While this is a very usable app, there are some small issues.  The most significant is the lack of orientation control.  All text and image-based news content is displayed in portrait mode, as are all menus.  Video content, on the other hand, is displayed only in landscape mode.  This can be jarring and really has no business being the case, given that the Kindle Fire's screen is more than capable of displaying both types of content in either mode with no loss of quality or usability.
Some might also be put off by the advertising.  While this is a free app, most videos and seemingly all photo slideshows include ads.  Since most of these ads lack the user interface elements that are shown while browsing the content they appear amidst, it can be confusing to determine what exactly needs to be done to dismiss them.
Overall ABC News has released a strong app that caters to existing fans.  If you don't already follow the network, there is little here that will persuade you to start.  On the other hand, there is absolutely nothing to complain about when comparing the app to other similar offerings.  We can hope that when the next generation of Kindle Fire is released, the ensuing popularity will encourage ABC to put some effort into making their program even better.