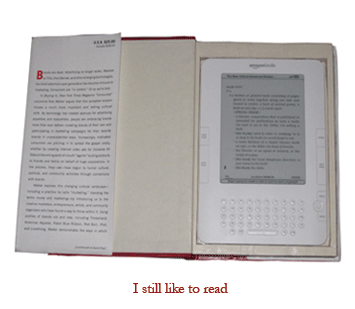 Busted Typewriter is selling a collection of hollowed out books as hidden compartments, including snug cases for the Kindle and Kindle DX.  This is pretty nifty to way to read your Kindle while still retaining some of the look and feel of traditional books.  But, according to the creator, this case goes beyond aesthetics to provide a number of benefits:
Love your Kindle but miss the feel of holding a real book?

Tired of strangers asking about it while you're trying to read?

Paranoid that neo-luddite publishing loyalists keep giving you dirty looks?

Perhaps you'll enjoy carrying your Kindle hidden inside an old book.
All of the books/containers can be bought off of Busted Typewriter's Etsy page.  If you find the price of $25 (plus $5 shipping) a little too steep but still like the idea, you could probably try making one yourself.  It shouldn't be too difficult to hollow out a book and glue the pages together.  As for materials, I can't imagine that a used copy of Spa Food would be super expensive.