After years of waiting and fan requests, J.K. Rowling has finally got her Pottermore site running well and offering eBook versions the Harry Potter series to owners of Kindles, Nooks, and more.  She accomplished this in such a way that even Amazon, the bane of publishers and booksellers everywhere if you believe the news, was persuaded to redirect all interested buyers away from their main site and into Pottermore.  This makes it even more surprising for Amazon to announce the recent inclusion of the Harry Potter series in its controversial Kindle Owners' Lending Library.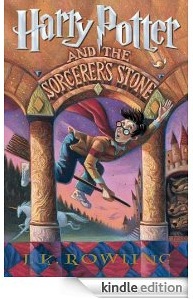 Those with access to the lending service will be able to select from the whole seven book series in English, French, German, Italian, or Spanish starting next month, thanks to an exclusive agreement with Pottermore.  This means that anybody with an Amazon Prime account and a Kindle device can check out one installment of the series every month.  If you are planning to read through these books again anyway and don't necessarily need to own new copies in a digital format, this means about $56 in savings that could offset the cost of a new Kindle eReader or Amazon Prime annual membership significantly.
No details were released as to the nature of the exclusivity that Amazon mentioned in their press release.  Seeing as the Harry Potter series is already available in libraries across the country and has been since March, it is unlikely this will be exclusivity with regard to digital borrowing.  More likely, Amazon has an arrangement to be either the only purely digital lending service to carry the books or they have arranged unlimited distribution rights for the Kindle Owners' Lending Library rather than a per-copy fee.  The only major impact this will have for users of Amazon's library is that it will never have waiting lists.  Either way this will likely be more inconvenient for potential competition down the line than it is right now when the Lending Library is essentially the only one of its kind.
The usual Kindle Owners' Lending Library rules apply to Harry Potter.  You get one book per month and the most.  You only get to borrow one book at a time.  There are no late fees.  To participate you must be both a Prime member and a Kindle Owner; the Kindle Apps do not qualify.  While reading, any notes, highlights, bookmarks, tags, or other personal interactions with the book will be saved via Whispernet in the hopes that you eventually decide you need to own the book.  Should you buy a copy, or borrow the same book a second time in the future, it will already have access to all of the marks you made in your library book.
If you are interested in taking advantage of this arrangement, the Harry Potter series will become available on June 19th.  Assuming you meet the requirements for Lending Library usage, you will be able to get your free rental then regardless of the level of popularity it enjoys on launch.  If you don't yet qualify but are in the market for a tablet, the Kindle Fire comes with a convenient month of Amazon Prime membership and thereby takes care of both sides of the qualification at the same time.  Something worth looking into.