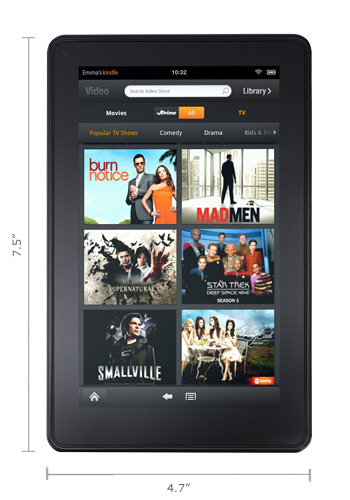 While it does other things as well, in a lot of ways the Kindle Fire seems to be intended to do for internet video what the Kindle eReader line has done for the eBook.  While Amazon hasn't quite got the content of, say, Netflix, they're doing a great job of building up the lists in preparation for the launch of the new media tablet.  Deals have been made with the likes of Fox, CBS, and others to offer a selection that will cater to practically any taste.  The big trick is to get people interested in buying.
In order to ease customers into the experience, new Kindle Fire owners will be getting a month of free Amazon Prime membership.  Now, in addition to the well known benefit of free two day shipping on almost anything Amazon.com sells for the duration of a Prime membership, everybody with said membership get to stream a fairly large segment of the Amazon Instant Video library for free any time they want to.  It isn't the whole collection by any means, but there's been some good stuff there.
Now there is even more.  Amazon has arranged to make a large selection of popular PBS titles available as part of the Prime package.  This will include Frontline, Antiques Roadshow, Julia Child's The French Chef, and a great deal more.  All told, over 1,000 new episodes will show up over the next couple months, bringing the general total of this free streaming category to over 12,000.  PBS has declared that this is part of a larger overall strategy to bring their programming to anybody who wants it whenever and wherever they want to experience it.
Obviously this works out well for customers.  Freely available content is nice and it will give people a chance to assess the value of the Amazon Prime program on an individual basis.  For Amazon it's even more useful since it gives them an opportunity to impress. They're reportedly selling the Kindle Fire for a slight loss on every unit, which means that money has to be made through other avenues besides hardware.  Amazon Prime membership is one of those.  This means that the company has every incentive to make the service worth the $79 annual fee.  As most people who have used this service come to realize, it tends to be.  It also lets people test out their own situation with streaming video in terms of connectivity and reliability.  Nobody wants to be stuck spending money on video without knowing if they will actually be able to watch it.  The trial is good news for all involved.
It's likely this won't be the last we hear about expanded video content in the next few months.  That includes both Prime and regular content, of course, but the service is clearly poised to expand.  With the recent dissatisfaction with Internet Streaming giant Netflix, it's a good time to be presenting customers with an alternative opportunity.  If you're a fan of this sort of technology, it's something to keep an eye on around and immediately following the Kindle Fire launch.