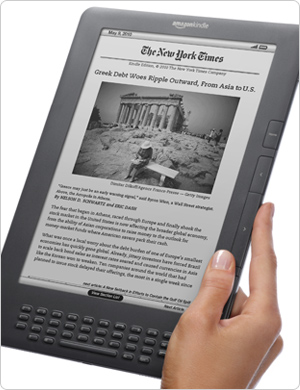 Over the past few months, comments have been made repeatedly about the potential for the Kindle's lack of library compatibility being a deal breaker when it came time to make the purchase of your new eReader.  Well, apparently Amazon has been listening to you too.  In a press release this morning, Amazon(NASDAQ:AMZN) has announced that they have been working with Overdrive to integrate the Kindle into a library lending friendly system and will be rolling out the product of these efforts later this year.
In terms of basic features, there shouldn't be too many surprises.  Expect all the basic Overdrive Library functionality and book selection, given the interaction between Amazon and Overdrive.  You should even be able to grab all your borrowed books via the WiFi.  What makes this a unique addition to the eBook library lending situation, to the best of my knowledge and aside from the fact that it brings in the largest eReader owner base on the market, is the annotation feature.  Users can expect to be able to annotate, highlight, and generally personalize their reading experience as they always have with any purchased book and, while these alterations will not pass on to the next borrower, all this will be preserved should the book be borrowed again or purchased at any point in the future.
This new feature, if you want to call accessibility of this sort a feature, will be available to every user of the Kindle platform, not just owners of the Kindle eReader.  This means that pretty much anybody who owns a device with a screen should be able to borrow themselves an eBook now, and that reading borrowed eBooks has become practically uncoupled from device concerns.  While I doubt that the end goal of this was to empower libraries as players in the digital marketplace, I would guess that it suddenly got a lot more important for publishers to avoid boycotts like those that HarperCollins has managed to stir up.
For those who might be unfamiliar with the Overdrive book lending system, it is essentially to institutionalized eBook lending what the Kindle is to eBook reading.  Sure there are probably other options, but in general it sets the standard.  I have yet to come across a decent implementation of another type of eBook library software, in fact.  The way it works at present involves downloading a book to your computer as a step in the process, but it sounds like Amazon is planning to do away with that given their mention of WiFi book downloading in conjunction with the service.  Maybe this is what took so long to get working?  Other than that step, I have never been inconvenienced by a borrowed eBook, though the waiting lists can get a bit long at times.  The only question that remains to be answered, for me, is whether or not this extends to downloadable audiobooks.  While I'm aware that these aren't a big thing at all libraries, it would be great to see that sort of thing be possible for Kindle users. Let's hope, given how long this has all taken, that every possible option is left open for readers.