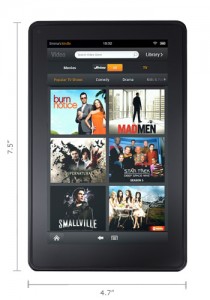 I have a Kindle 2, and I just got it for Christmas two years ago. Then it was $259. I love my Kindle, but it sure is looking clunky after seeing the specs from the newest models that were recently released. What a difference two years make! The Kindle Fire is $60 less than my Kindle was when I got it.
The newest Kindles no longer have a keyboard, which makes them so much more streamlined and lightweight. There is also the touch screen model and of course, the tablet. The good news is, Amazon is now offering a trade in option. Click here for more detailed discussion on the advantages and disadvantages of the trade in option.
Don't expect to get much money out of it. You can get $28 for a first generation Kindle.  Can you believe that it was twice as much as the Kindle Fire is now, when it was released four years ago?  The second generation 6″ Kindle like the one I have goes for $39. The Kindle DX is $135.
The deals are not that great, but the trade in values go a long way if you want to use it towards a new Kindle.  I ordered the Kindle Touch that will be available November 21, and a trade in would cut down a big chunk of the $99 price tag.  I am really excited about the touch screen version because that is what I am so used to now with it being so popular these days.
I haven't decided whether I want to pursue the trade in program option yet. I have several family members that would love to have a Kindle,  With that in mind, I'm sure libraries, schools, and charity organizations would love to have old Kindles also.
The trade in program also includes a variety of other popular electronic devices such as the iPod, Touch, iPad, tablets, and more.  Some offer Amazon credit.  For someone who buys stuff on Amazon all the time, that's not a bad deal.
So, now you have several options to choose from if you have an old Kindle lying around that you want to get rid of.  So, glad to know that old Kindles can still be put to good use.