Amazon has now introduced the Whispercast service, which allows for organizational management of Kindle devices.  This includes both Kindle eReaders and the Kindle Fire tablet series.  Using this service it is possible to distribute content, manage available functions, and generally maintain control over your organization's device even when it is in the hands of an authorized user.
One of the main markets that Amazon initially tried to target with the Kindle was education.  The fact that it is difficult to manage these devices is one of the major factors that has held up institutional adoption.  Parents have reason to be uncomfortable with the idea of their children being handed anything with unrestricted internet access, teachers have plenty of reason to wonder if that same internet access would be abused during school hours while also having doubts that it would be possible to ensure uniform content across entire classes, and the issue of potential theft is an ever-present concern in as poorly funded an organization as your average public school.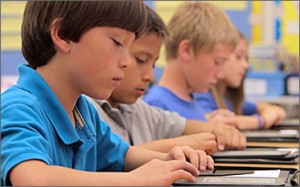 Business customers, meanwhile, have largely had better options than the Kindle Fire when it comes to device management for employees.  The alternatives on the market today make it possible to run a sophisticated Bring Your Own Device(BYOD) program in a way that Amazon has until now failed to match.  This is a big step forward.
Right now the benefits seem to be restricted to company/school owned Kindles.  There are plans for further features that make Whispercast more versatile for BYOD programs, but that's still listed as "Coming Soon".
The available management features are fairly straightforward and fall into two categories: Access and Distribution.
Access controls cover anything having to do with user privileges.  Through Whispercast it is possible to determine whether a device is able to connect to the internet, how much access they have to things like Facebook and Twitter integration, and if they are allowed to make purchases through the Kindle Store.  Blocking the ability to deregister or reset to factory settings is of course part of the package.  All of this is managed from a central control screen and it removes the need to individually configure every Kindle.  It is even possible to send WiFi details directly through the cellular signal of compatible devices so that users are able to connect with no trouble when in range of your home network. Learn how to open CFG file.
Distribution is fairly obvious.  You can distribute content to all devices on your account or break them down into subgroups in order to get people exactly what they need.  This could mean sending one class or grade level only their own content for the school year or keeping each department of your business supplied with the latest relevant documents.  Eventually apps will be included in this control scheme, though at present they are not.
Basically, if there is any intention of turning the Kindle eReader or Kindle Fire tablet into a regularly used part of your organization, things just got a lot easier.  Schools and libraries will definitely find this handy, but it certainly won't hurt business management.