Most everybody has probably at least heard of Audible at this point.  Amazon(NASDAQ:AMZN) has done a good job of promoting their services both as a general thing and in connection with the Kindle.  Now, to make things even easier for fans of Kindle audio books, users should find themselves able to download their new acquisitions directly over the WiFi connection just like a normal book purchase.  It's still not available via the 3G, but that should come as little surprise given the size of audio books compared to your average Kindle data transfer.  It doesn't seem likely Amazon would want to foot the bill for doing that via WhisperNet any time soon, really.
This is a nice change.  While it was hardly a major problem to download and transfer your Audible purchases to the Kindle via the computer, anything that streamlines the process has to be considered an advantage.  Not only does this save users the potential hassle of arranging temporary storage space and such, it means improved mobility for those of us who like the audio book option on occasion.  Not much is more annoying than finding yourself without a book to listen to when you're not in a position to read but still want to enjoy a book.
For anybody who might be unfamiliar with the Audible service, here's the gist of how it works.  You can sign up for either a monthly or yearly membership.  Each month or year, you will be charged a set rate and given "credits" as a result.  The basic membership option, for example, will give you one credit every month as your payment is received.  These credits can then be redeemed for the book of your choice.  Not much more to it.  I haven't run into any interesting books that required more than one credit, but the site does assure users that this is something to be aware of.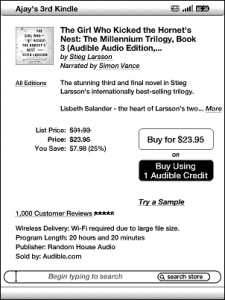 If you want to grab Audible books via the Kindle itself, you can link your new Audible account directly to your Amazon account and have all of your existing One-Click Purchasing options simply work.  This is done by signing in through the Audible.com site.  It's simple.  After you're linked in, you can head to the Audible section of the Kindle store using your Kindle and look around.  Members can either use their credits at checkout or, if you're out of them or would rather not use them for whatever option, pay using your usual method.
It's a bit more expensive per title if you want to purchase these audio books with cash rather than using the credit system, but there are options for multiple credits per month or, as mentioned earlier, a yearly plan that gives you 12 credits all at once and is renewable at any time.  Just in case you get hooked and can listen to more than one or two per month.
At the moment, there are over 50,000 titles available through this service and the basic plan is going for only $7.49 for the first three months.  I recommend giving it a try if you have any interest whatsoever.  The pricing is reasonable and you'll definitely notice a major difference over the Text-to-Speech option.  There's even a 30-Day free trial that provides 2 free audio books!
Audible is an online service with wide selection of audio books. Audio books could be exchanged for Audible credits available as part of the subscription or purchased from Audible.com website.  You can cancel Audible at any time.