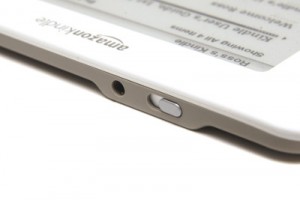 There are a lot of good reasons to pick up a Kindle.  It's neat to read, occasionally very useful for its ability to be a portable internet device, and it saves on effort and potential injury when you compare it to the hundreds or thousands of paperbacks you might otherwise have to carry down a flight of stairs on moving day.  One of the less talked-about uses, however, is as a vessel for audiobooks.
Having worked with the Kindle while helping out students with learning disorders, I can tell you that this is a really useful feature.  It's also proven helpful with an elderly relative of mine who sometimes has trouble even with the device's largest font sizes, but who still really loves her books.  The Text-to-speech feature isn't bad, though it can trip over some words in odd ways sometimes.  I personally prefer to go with actual narrated book readings.  It adds something that, if you're forced or inclined to be listening to a book rather than reading it yourself in the first place, helps significantly with personal immersion.
Since I'm sure there are those of you out there who agree with me, as there are certainly those who find my position ridiculous, I figured it was worth pointing out the current incentive for people still on the fence about the usefulness of eReaders.  For the moment, Amazon is offering a discount of $100 off their device if you sign up for a year of Audible.com membership.  I don't really know how limited a time this offer is, but I'd guess not terribly.  It's been around a while.  I personally consider it a worthwhile investment if you're interested in audiobooks.  Audible provides good prices on good readings of good books.  What more can you ask, really?  Chances are that if you've read this far into the post, you're interested in audiobooks anyway.  Might as well get a discount on your Kindle and a new source for your reading all at once, right?
Audible is an online service with wide selection of audio books. Audio books could be exchanged for Audible credits available as part of the subscription or purchased from Audible.com website.  You can cancel Audible at any time.