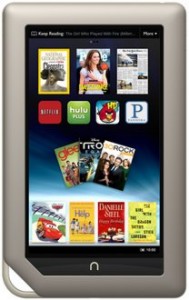 After reporting less than stellar stock returns, Barnes & Noble is seriously considering spinning off, or even selling its expensive, but popular Nook business to allow the Nook to ramp up its competition with Amazon's Kindle and Apple's iPad.
Right now, the tech world is weighing three options with the pros and cons of each.  This article does a good job of breaking all of it down.  Barnes & Noble can keep an active role in the business as it is now, which is not likely, it can take a backseat, yet still hold the reigns, or it can sell the business entirely.
Sales of all Nook e-readers combined were up 70% during the 2011 holiday shopping season, compared to a mere 2.5% growth of regular book sales.  That definitely goes to show that something needs to change, or the retailer will end up with the same fate as Borders, which declared bankruptcy earlier this year.
I think that Barnes & Noble's best bet would be to stay invested somewhat in the business because the e-book is the way of the future.  Despite the lackluster reception of the Nook Touch, the Nook Color and the Nook Tablet have been doing very well.  I am not saying that print is dying out by any means, but e-books are definitely going to take an increasingly larger role over the next few years.  Consumers are already flocking to Amazon for both print and e-books because the prices are better.  So, the Nook would be a lifeline in case the print side of the business suffers.
Barnes & Noble recognizes that there is work to do to catch up with the Kindle, so the competition is going to get much more intense if the Nook gets more attention via a spinoff or separate company.
It will be interesting to see what this potential new development means for the Kindle.  Amazon reported record breaking Kindle sales in 2011 because of the much anticipated Kindle Fire and by offering the prices to beat,  All three members of the Kindle Family took the top selling spots on Amazon. The Kindle will most likely remain firmly on top of the e-reader market for the time being.