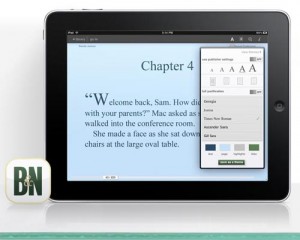 This Thursday, perhaps a little behind the crowd but better late than never, Barnes & Noble(NYSE:BKS) put out their very own eBook Reader application optimized for the iPad.  The impact has the potential to be greater than one might expect at first glance, especially given the unexpected success the chain has had in marketing their nook eReader device against the more established Kindle.
The big selling point, from my point of view, is the extensive customization of the reading experience available to the user.  There are several premade themes for you to choose from, including fairly ideal settings for nighttime reading.  You can also make your own reusable themes by adjusting font size(10 available), font style(5 available), background and foreground colors, margin sizes, text justifications, and link coloring. Dictionary integration isalso  mentioned, which is fairly useful sounding.  The LendMe feature that B&N is becoming known for is intact in this reading application and users will be able to lend books directly from the iPad.  Page turning should be intuitive for most users, with simply a tap or swipe doing the job. In general, all the features we've come to expect and desire out of software like this and a few nice little additions.
While I would ideally like to see integration with the nook device, at least to the point of syncing up the last-read page in a given book, that's still not to be found so far.  You do, however get integration with the PC app that will allow notes and progress to be saved between devices.  Overall, I'd say it's a great offering and worth checking out if you happen to have an iPad that you like to read on.