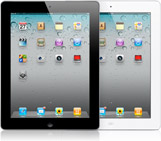 This week saw the much-awaited reveal for the next generation of the Apple iPad.  Needless to say, much excitement seems to abound all over the internet, along with a few groans from people who bought their iPads just a little bit too long ago to manage returns.  There's a bit to be excited about, especially for fans of the existing product.  The new one is going to be faster, lighter, have a couple cameras, involve absolutely no price increase over existing models, and will be in stores almost immediately.
Given that part of the event surrounding the announcement was a look at how great they are doing with iBooks, highlighting the recent Random House events involving their becoming a part of the Apple book store, I was rather hoping to find some information on how this would be a better reading device than the existing one or even better than the Kindle if they got really ambitious. When it came down to it though, it was mostly peripheral to the launch.
The advantages over the old model that I believe pertain to my concerns, specifically reading and the experience thereof and disregarding any other advantages that a tablet PC might carry with it, are slight.  The improved weight is nice, even if it was only .2lbs of reduction.  The extra slimming (a 30% reduction in the total depth of the device) might be nice if you prefer that, but I'm already personally one of those people who needs a decently bulky cover on my Kindle to really feel right when I read so it doesn't help me much.  The fact that the battery life stayed good for a Tablet PC is nice, I suppose?
While I prefer the Kindle for reading at the moment, had Apple been able to come up with something impressive to woo me I would have been willing to listen.  I still think that the $500 minimum price on them is a bit high for something that I would probably primarily use for reading, but the best experience is sometimes expensive.  Anyway, seems to not really be an issue on this one.
So, as far as providing added levels of competition to the Kindle-dominated eReader marketplace, I'm going to say it's not particularly an issue.  While the iPad was, and the iPad 2 will be, a viable alternative eReader for people who want to use it primarily for the sake of its versatility, the reading experience for most has not been enough to justify that as its primary purpose.  This hasn't changed, even if a couple of very minor convenience changes were made that might be useful along the way.
This upgrade seems much more interested in emphasizing the AV capabilities of the device.  Nothing wrong with that.  I've found iPads quite convenient as portable movie players, myself, and the HDMI out will be a welcome addition. The Kindle vs iPad competition just doesn't seem to be an issue, however.  Possibly an implication that Apple is aware of the limitations it's working with?  That's probably just my POV coming out, though.  For those who are interested, look for the new iPad in any retailer currently carrying the product line as of March 11th.