While DC Entertainment is insisting that the move is not necessarily a switch away from Comixology, the publisher has now made the transition to offering its weekly content directly through the Kindle, Nook, and iBooks stores.  There is now very little reason to expect anybody to continue using the Comixology apps given that their main selling point was exclusive access to DC content.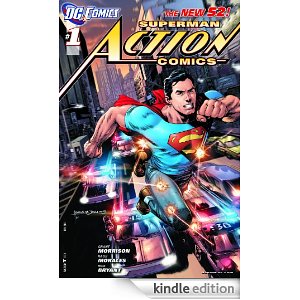 This change in distribution model comes at a time when digital distribution is up nearly 200% over 2011's numbers.  For comparison, DC has stated that their physical volume sales are up just 12%.  Given the already comparatively strong sales of the weekly comics in question it is a lot simpler to increase the audience for digital content by an impressive percentage, but this also comes at a time when many publishers are seeing digital distribution begin to overwhelm their traditional sales market.
The plan for rollout is essentially what you would expect.  The new titles, especially those that are part of DC's "New 52" franchise reboot, will be available immediately as they are released.  Over an as-yet undetermined period of time they will begin issuing the back catalogue.  A DC spokesperson claimed that the only real reason that it would take some time to get to content that wasn't brand new was the limitation of bandwidth.  The more interest digital content generates, the faster they will get the whole library converted and available through the various stores.
While there is not yet any way to get the DC catalogue in a readable format for a black and white eReader like the Kindle Paperwhite it is possible that this situation may change in the not too distant future.  Representatives of the company are interested in the idea of making their content available to eReader owners and see little reason for that to be prevented if a positive experience with black and white reading can be confirmed.  Senior VP of Digital for DC Hank Kanalz went so far as to explain his position:
"We're taking a look at whether we like how it looks in the black-and-white space. My attitude is that if you're stuck on a train, and you only have your Paperwhite or other black-and-white device, you can read it then and see it in color later"
This should go a long way toward both increasing interest in digital comic distribution and proving that an online distribution model will work for such a large publisher of graphic storytelling.  Seventy titles are already present in the Kindle Store and more will be around soon.  Perhaps it's a matter of personal opinion, but I doubt there will be much concern over the end of Comixology's reign when it comes to comic content being served to Kindle Fire owners.  It's only a matter of time now before everybody else catches on.