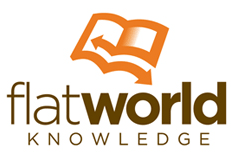 Flat World Knowledge, a provider of cheap digital textbooks, has grown dramatically over the summer.  This fall semester, over 40,000 college students will use Flat World's textbooks.  This is 40 times as many people as in the last spring semester.
This is cool for a number of reasons.  First of all, Flat World's text books are super cheap.  To read the book in a web browser is free.  Most students, however, are willing to pay the $20 upgrade to receive DRM free PDF files.  And if a student really hates digital media, there is still the option to pay even more for a physical copy.  There isn't any real downside for the students who have Flat World textbooks assigned in their classes.
The second reason why I like this story is that it means more professors are choosing digital formats for their classes.  This is a conscious decision on the part of the teachers to provide students with a more convenient and much cheaper alternative to traditional textbooks.
Students who own the Kindle DX, or other eReaders, are going to especially benefit from this.  Since the files come in PDF format, there is no reason why they couldn't be put on a DX.  Even better, Flat World plans to add the Amazon format to their library this year.  It shouldn't be long before students can download their books cheaply, over Whispernet, and (since the books are available in multiple formats) no worries about accessibility.