To view ePub of PDF files on your Amazon Kindle normally you would need to use Amazon email conversion service (either free of $0.10 per document) or you could convert documents on your PC using Mobipocket Creator. Well, not anymore…
Jesse from "Massively Parallel Procrastination" blog has created a Savory hack that adds almost native support for these formats to your Amazon Kindle. Installing this hack does two things:
It becomes possible to download PDF and ePub files from Kindle browser (normally all unsupported file-types are blocked)
One PDF or ePub file is dropped into /documents folder background conversion process is started automatically and after some time a converted document appears in it's place.
I installed and tested it and it took just under 2 minutes to convert project Gutenberg version of "Alice's Adventures in Wonderland". There were some formatting flaws but overall book converted well.
This hack is fully reversible. There is an uninstaller provided. However it should be noted that because of the way uninstaller currently works, if you have other hacks installed (like unicode hack or screensaver hack) it can potentially partially revert these as well if they were installed after Savory. So for now it's safer to uninstall in the reverse order of how you installed hacks.
As with all other Kindle hacks it should be used with care because although tested by many people (myself included) it can potentially brick your device. Also having this hack installed will prevent official Amazon updates from installing so you'll need to uninstall it and the install Amazon update manually.
This makes Kindle even more PC-independent than it was to begin with. And this is good. Personally I believe that PC-independent gadgets are the way of the future. Just look at how successful iPhone is (I only need to tether mine to upload new audiobooks and flash new firmware). This is because most people don't wan't anymore just to use computers for the sake of using computers but to get done things they need done in their everyday lives and the simpler – the better.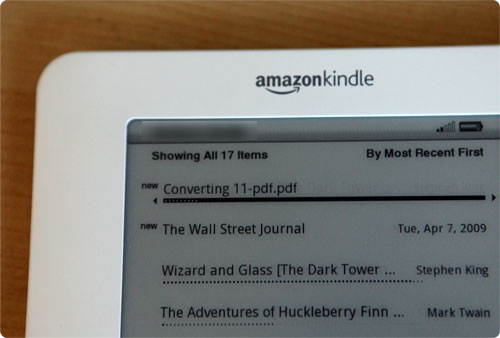 Learn how to open PDF file.