Some of you may have noticed the Feedbooks link in the sidebar, I recommend that if you have got a Kindle or any other eBook reader that you check it out. So what is Feebdooks all about?
Feedbooks supply public domain books and Creative Commons titles for E-Paper devices. What is great for Kindle owners is that they now support the Mobipocket/Kindle format. So you can read non-encrypted Mobi format eBooks on your Kindle.
There are a wide variety of eBooks covering most genre's, you can search by author, title, top downloads, recently added and most recommended. Most eBooks are available in 5 or 6 different formats;
epub
Mobipocket/Kindle
PDF A4
Sony Reader
iLiad
Custom PDF
For those of you who need the help, Feedbooks provides a detailed Kindle help section to help you get the eBooks onto your Kindle. The process is not that complicate, I promise!
One of the best features on the 'Custom PDF' (screenshot below) option where you can set the height and width of the file which is very useful if you have got a PDA or anything else with a small screen.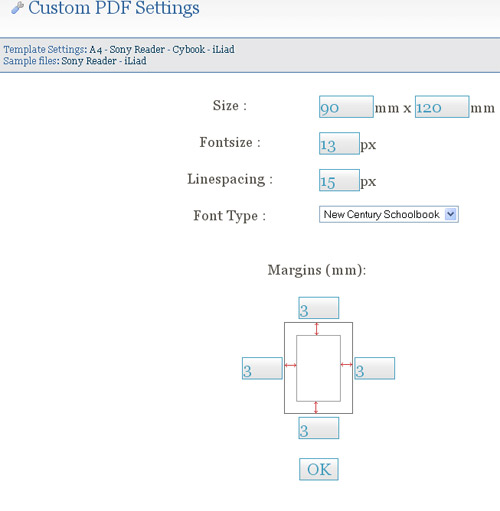 Feedbooks also offer a service where you can upload and share your eBooks with the rest of the world. Similar to Amazons Digital Text Platform service. Feedbooks does all the hard work, all you have to do is write and tag your submission. We'll keep an eye on this service and report and developments in the future.
Feedbooks is a great site for Kindle owners to I recommend you check it out
You might also want to subscribe to the Feedbooks blog, its updates occasionally with useful tips, updates to the site and developer news.