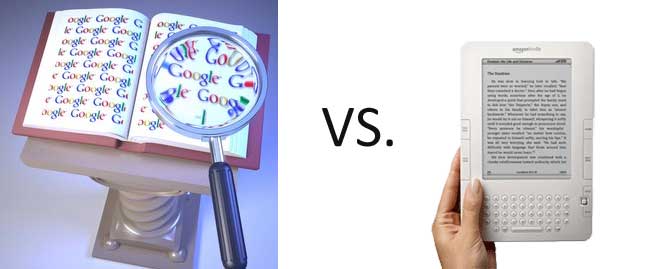 Google (NASDAQ:GOOG) has announced its intention to enter eBook market in June, 2009. Then there were some preliminary announcements of deals with publishers. But as Sony (NYSE:SNE), B&N (NYSE:BKS) kept releasing their own products everyone seemed to forget about the search engine company. With Amazon Kindle vs. Nook, Sony vs. Kindle and iPad vs. everyone and their dog nobody seemed to take Google eBook initiatives seriously. One year ago I believed and I still do that if someone were to dethrone Amazon (NASDAQ:AMZN) as eBook leader, it would be Google and not other eInk reader manufacturers and definitely not Apple (NASDAQ:AAPL).
Recently Google has announced that Google Editions will go live and start selling books in the Cloud as early as June, 2010. Although Google is not known for generating excessive hype for their products through extreme secrecy and controlled leaks little is known about the upcoming service so far:
There will be a reader application that will run on any modern browser. iPad users will definitely be able to accesses it. eInk -based devices with browser capabilities like Kindle and Nook are a big "if".
You would be able to download books in some "open" format and read them on inexpensive "independent" eInk readers that support it. Although it wasn't officially announced what that format might be my bets are on ePub. Whether it will have some form of DRM or not remains to be seem. Most likely it will. Otherwise it wouldn't make sense for Google to keep Kindle out as they could easily attract millions of current Kindle owners who already buy and appreciate eBooks by supporting DRM-free Mobipocket format.
Publishers will be able to set their own price. Does it mean that there will be no "$9.99" books? Hard to say. It's true that Amazon put a lot of effort in trying to keep the prices low however even apart from Amazon efforts there is also free market that will prevail eventually. Should the service become popular, after some time prices there would be representative of true market pricing. I believe that Amazon prices are currently below market because Amazon is pushing the book prices down to promote the Kindle reader and lock-in customers.
Publishers will keep 63% of the book price, Google will pocket remaining 37%.
It would be possible for online book retailers to use Google Edition platform to sell eBooks. Essentially these are going to be the same books. Retailer will get 55% of revenues and pay a small fee to Google, publisher will get the remaining 45%.
Publishers would also be able to act as a retailer in which case they keep all the revenue minus small Google fee.
Google Editions is expected to launch with 500,000 titles. I expect that many if not most of these will be public domain books.
Will Google Editions succeed? Hard to tell. If it will, it would not be because of "open format" but because of ease of use and book selection. After all, people don't want to buy eReader (be it eInk or not), people don't care about whether format is open or not (although 1984 argument may scare some people, in reality eBooks are little different from paper books in this regard for all practical purposes) . What people do want is  to read books that they find interesting. Whoever would make it the easiest would win.
So far Google seems to have following advantages:
Google Editions will work in browser. Every computer be it Mac, PC or linux based DIY desktop has a browser. Phones have browsers too (though I find it hard to believe that the app would be usable on a small screen). This means that you don't have to install any software – just type in the URL and you are ready to go. This is a big plus as people don't like/don't know how/are afraid to install stuff on their computers.
Since Google Editions runs in a browser it's very convenient for Google that they actually own most of what is displayed in a browser. Many people set Google.com as their homepage. And when they want to buy something (including books) they "google" it. Google can rank their book store 1st, 2nd and 3rd for popular queries like "Twilight Eclipse" with a flick of a switch. Of course doing something this brutal and straightforward would get them in a lot of antitrust trouble. But there are many more subtle options.
Because publishers can control the price they may be more likely to sign up for the program.
Wide range of supported devices may be a plus.
There are some things that are stacked against Google:
It was clearly announced that Amazon Kindle device is not supported. So Google will have hard time attracting existing Kindle customers who already purchased the device and books. These people wouldn't want to forfeit their existing collections. It would be really hard to convert these people.
Having many devices to chose from can be a problem. Some people are confused by choice. When you buy Amazon Kindle or Sony Reader, you can be sure that these companies will stand behind their devices, support them and you would be able to buy books for years to come. With "independent" readers there is always a chance of device becoming incompatible with Google store since Google doesn't own the device, doesn't support it and has no control over it. And of course "independent" readers are locked out of closed leading book stores like Amazon, Sony and B&N.
All in all it's a coin toss about who will come out on top (if anyone). My money is 50/50 on Amazon and Google.