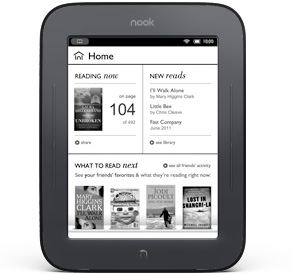 While the Nook line is clearly among the most popular eReaders ever to hit stores, arguably second only to the Kindle, it seems that the expense of keeping current has proven too much for Barnes & Noble.  They recently announced that there is an interest in breaking off the Nook and its associated business from the company as a whole.  There is no real word yet as to what the future of the eReading line will be, as things are still being explored at the moment, but B&N is blaming recent greater than expected losses on their investments in the Nook (especially the Nook Simple Touch which has completely failed to meet sales expectations) and as such seems to have good reason to be dropping it.  The big question for users will probably have to be whether this is actually a positive even for Amazon.  There are good reasons to be skeptical and hope that somebody comes along willing to pick up the expenses.
Nobody would really mind always being able to know which eReader is the best to buy, of course.  If all that is really left for users in the US is the Kindle, it makes things easier at the store.  The lack of competition that such an arrangement relies upon, though, is problematic.  Look at how things stand now simply from a hardware standpoint.  The Nook Simple Touch, while tied to what I personally would consider the less compelling platform, is definitely the superior device.  The Kindle Touch is nice and has a few advantages of its own that make it a close race, but the lack of physical page turn buttons and the light color of the case both work against it.  You wouldn't think something as simple as the color would have such a huge effect on perceptions, but look at all of the complaints that have come up about contrast for the new Kindles despite having essentially identical screens when measured carefully.  That said, neither would have gotten to where they are today so fast if there hadn't been the steady trumping of each model from either company as it appeared.
Demand, fortunately, has never been higher.  This means that there is likely to be some other interested party willing to pick up the Nook line should Barnes & Noble give up.  In a way this would be a particularly positive change since it would introduce the possibility of finally seeing an international release of the currently US-only product.  Booksellers tend to welcome any advantage that will help them keep afloat despite competition from Amazon, so finding sales partners wouldn't be particularly difficult given the proper incentives and marketting.
Ideally I would love to see Google or Kobo pick up where B&N leaves off.  Not many other companies besides Apple have both the media and hardware expertise necessary to keep up with the Kindle and just selling what has been developed so far without developing new products would be the end of the line.  This assumes that the eReading line is done as far as B&N is concerned, but things increasingly point that way.  We'll see where things go over the course of the next couple quarters, but time will tell.