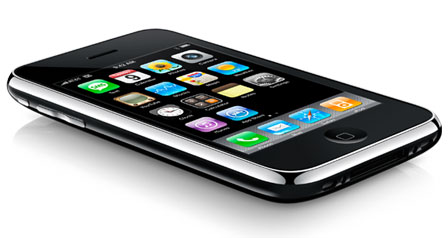 You may of heard that over the weekend Apple unveiled it's new iPhone 3G device, there has been a lot of buzz surrounding the device, mostly because of the software, the actual hardware is not that impressive and mostly includes improvements that the original iPhone should have shipped with in the first place. The iPhone 3G comes in at a impressive $199 to buy, however you will be paying more in the long term compared to the classic iPhone with higher network subscription charges.
Now how does the new iPhone effect us Kindlers? well… Apple has done something remarkable with the software – they have opened it up! which is impressive considering we are talking about Apple here. All this has allowed third party developers to create e-book apps for the iPhone 3G and has turned the iPhone into a e-book reader.
There are already a couple of iPhone e-book reading apps out already, the iPhone Bookshelf is one which supports multiple formats.
Another promising e-book app is Stanza. Stanza is an app which lets you read e-book which are stored on your iPhone and e-books online, make sure you check out the demo at the bottom of the page. Stanza can also read files in the ePub format, which many other apps are able to work with, perhaps the Kindle will eventually support ePub aswell one day.
The only annoying thing about reading an e-book on the iPhone is that each e-book comes as its own individual app, with its own icon on the iPhone home screen, Apple could have done a better job of categorising e-books or even better creating their own e-book reading App.
There is still some speculation on whether  Apple will create a dedicated e-book reading device, but for now we know e-books are on a Apple device through third party apps, if you couple this with rumours that Apple is in touch with major publishers this would support the theory that Apple is working on its own e-book reader, or at least a e-book store.
Will the touch screen make it easier to read an e-book? I don't know since I don't own a iPhone or iPod Touch, but I suspect that it might be a bit easier to read with the iPhone, swiping the screen to turn the page seems a more natural gesture than pressing a button, however you will be using both hands, whereas with the Kindle you need only use one. With the Kindle accidentally turning the page can be quite frustrating, I cant see it happening on the iPhone. Learn how to open SWF file.
You can watch our buddy Walt Mossberg review of the Apple iPhone 3G in the video below, he mentions the e-book reading capability of the device.
Can Apple with its new iPhone 2.0 software challenge Amazon?
Data: Open File Data.