This is the 4-th post in  the series of weekly giveaways sponsored by DecalGirl.com here on BlogKindle. Here is the answer for the question – who is the lucky man? His tweeter name is @LGM777. I've sent the redemption code via Twitter. To be in the game you need to do the following: click on the twitter button on the left to retweet this post and follow @BlogKindle so that I can send you a personal message on twitter with redemption code in case you win. A winner will be randomly chosen next Friday and announced in the next post. A tip – tweet more and you will have more chances.
---
I hope everyone's Halloween spirit was stimulated by last week's post! We're definitely in the mood for some trick or treating here at DecalGirl. As I write this we are preparing for our annual Halloween costume contest. Right now there's Edward Scissorhands, a Hula girl, Gumby, the Stay Puft Marshmallow Man, Raggedy Ann, a mad scientist, a jellyfish, and lots of other interesting characters roaming our halls!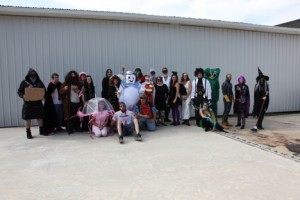 But now on to something new….
DecalGirl skins are amazingly easy to install, and when you decide you are ready to change your look with a new one, they come off clean as a whistle, with no residue left behind. People occasionally ask "Are they reusable?" The answer to that is "no" for a couple of reasons. First, most anything made from vinyl is going to stretch a bit when it is removed from something, especially if it has adhesive on it and you have to peel it off. Second, our proprietary adhesive is designed to come off of your device with no residue, but, like most adhesives, it will not be as sticky and it will not adhere in the same way a second time.
Having said that, you should know that our adhesive does give you a "do over" if you try to place your skin and you don't get it quite right the first time. If things don't line up quite right for you, you do have a short time window to carefully remove the skin, line it up, and try again.
If you need some help installing your skin, you are in luck! There is a page on the DecalGirl website that is filled with installation tips. Or, if you are the type of person who prefers audio/visual help, pay a visit to YouTube.com, do a search for "DecalGirl skin installation" and you will find several pages of videos showing skins being installed on various devices. Please note that some of these are official DecalGirl productions; those are the ones that are by "DecalGirl Support."
There are also a lot of others made by third parties. While most of them are pretty good and you'll hear a lot of positive comments about DecalGirl skins, when it comes to installation advice you should probably stick to the ones that are officially from DecalGirl.
Just a quick note in closing today… We are already getting questions about skins for the new Kindle Fire. We would like everyone to know that we are planning to have skins available for it within hours of its release. Scattered through this post are some of our more recent skin offerings for Kindles. All of these, as well as any other design you find on our site will be available for the Fire. Talk to you next week!