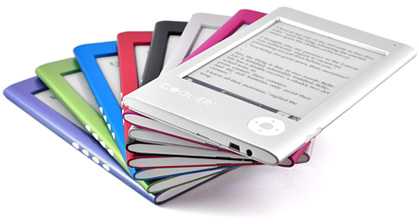 Interead's attempt at a Kindle-killer, the COOL-ER reader, begins shipping this month.  Designed in a style that clearly mimics the iPod Nano, it seems that Interead hopes to fill the niche of a stylish, more "hip" eReader.  The screen is roughly the same size as the Kindle 2, but at only $249.
The drop in price does have a cost, however, as the COOL-ER lacks some of the Kindle's functionality.  Besides the absence of text-to-speech or a keyboard, the most obvious feature missing is any form of wireless.  While Interead does have its own eBook store, it doesn't run any kind of whispernet like service and all connections to the reader are through USB.
A mostly negative review of the reader has already shown up in the USA Today.  Besides criticizing the lack of functionality mentioned above, the review goes on to complain about how Interead's Cooler Books store compares to Amazon's.  New releases on Cooler Books have costs comparable to their real-life hardcover counterparts, meaning many titles are $10-12 more than on the Kindle.
But it seems the review somewhat misses the point.  Like the successful iPod Nano it is designed after, the COOL-ER provides one function at a significantly discounted price.  And while Cooler Books has higher prices, it is because the publishers are given more control.  The result is that Interead actually has a much larger selection of eBooks than Amazon, even if grossly overpriced.
Even more importantly, it's possible to avoid the expensive Cooler Books store altogether.  Unlike the Kindle, the COOL-ER reader is based around the ePub format and not tied to any specific service.  This makes it compatible with Google's upcoming book store.  If Google's device-agnostic service proves to be popular, the COOL-ER is exactly the type of reader it's average customer would own.  It certainly lacks the power of a Kindle, but at over $100 cheaper, many people would gladly give up the Kindle's extra features.  It'll be worth seeing how Interead competes in the future.
Feature Comparisons at a glance:
| | Kindle 2 | Kindle DX | COOL-ER |
| --- | --- | --- | --- |
| Display Size | 6 inches | 9.7 inches | 6 inches |
| Weight | 10.2 Ounces | 18.9 Ounces | 6.3 Ounces |
| Wireless | 3G/Whispernet | 3G/Whispernet | No |
| Text-To-Speech | Yes | Yes | No |
| Book Store | Amazon | Amazon | Cooler Books |
| ePub | No | No | Yes |
| Storage | 2 GB | 4 GB | 1 GB |
| Price | $359.00 | $489.00 | $249.00 |