My post about international release of Kindle received more attention than any other post on this blog so far. A lot of readers are asking questions so I'm going to answer these in this FAQ to the best of my ability. Some of the answers are going to be guestimates since I haven't received my World-ready version of Kindle 2 yet. I'll keep adding and changing content here as I learn together with you.
What countries is Kindle available to?
As of October 6th, 2009 Amazon has revealed international version of Kindle 2 eBook reader that officially ships to 169 countries. However you should be aware that some features like wireless, experimental web-browser, blog subscriptions (including this one) are not available everywhere. Number of books that you can buy is also different for every country. Complete list of countries, book counts and other details can be found here.
Why isn't Kindle available in my country? When it will become available?
Although I can't know for sure since I don't work for Amazon and never had, from my experience with eBook industry I can guess that it may be related to one of the following:
Amazon didn't rally enough publishers in a particular country so book selection would have been too small.
Some provision of copyright law prevents Amazon from offering Kindle in a particular country.
I'm sure that there are no political/religious/etc reasons behind these limitations. Amazon is in the business of making money. And you can't make money by turning down paying customers. That's why I'm sure that they are making efforts to overcome these limitations and ship Kindle worldwide.
But I really want to buy a Kindle now. What should I do?
There is a way to buy Kindle when you are outside US. It has been known and used long before Kindle became internationally available. As of recently you will also need to use proxy server, VPN or similar solution to overcome geographical restrictions.
I have already used gift-cards to purchase Kindle and use it outside of the US. Can I re-register it to my "non-US" account now?
I absolutely see no reason why you can't. You can de-register your Kindle from your "fake US" account, and then register it with your local account. The downside is that you will loose the ability to download books that you've purchased from your "fake US" account. So before de-registering you should download these books to your computer make a secure backup copy. It may be a good idea to use one of the secure online backup services. You can then copy these books to your re-registered Kindle and you should still be able to read them.
Why does the coverage map show that Whispernet will work in my country but I still can't buy Kindle?
Wireless coverage merely indicates where Kindle wireless will work. This only depends on roaming agreements AT&T has with wireless operators around the globe. However more is needed for Amazon to sell Kindles in particular country as was stated above.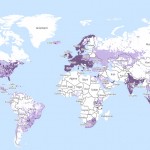 Where can I find Whilspernet coverage map?
You can view the large map by clicking on the small map image to the right. Or you can access the interactive map here.
Is international Kindle DX available for purchase?
Currently only international version of Kindle 2 was released. However there are some rumors and speculations that international Kindle DX will be released next year.
What network does international Kindle use for wireless connectivity?
International version of Kindle 2 uses AT&T 3G GSM network in the USA. Outside of US it uses 3G GSM wireless networks of AT&T roaming partners.
Can I use WiFi with Kindle?
No. Not directly at least. You can download books and magazines to your PC via. Amazon.com website using WiFi Internet connection and then transfer them to Kindle using USB connection.
Does international version of Kindle support non-Latin Unicode characters?
Although I can't tell for sure until my international Kindle 2 arrives, there is nothing on Amazon website that indicates any changes compared to the US version of Kindle. You can still use Kindle Unicode Font Hack to expand the character range Kindle can display.
Is it possible to upgrade my US Kindle to international version? Will firmware update solve the problem?
No. GSM and CDMA networks require different hardware. This hardware is not easy to replace and doing so will surely void your Kindle warranty. Even if you were able to replace the hardware, you would still need to make lots of software changes to make it work. Nobody was able to do this as far as I know.
What is the story with international book download surcharge of $1.99? Who will pay it? Where? When?
International data roaming is expensive. When I visit Canada with my US iPhone, I'm offered a rate of $15.35 per megabyte for data roaming. Average book is at least 300 kilobytes. This would translate to around $5.00 additional cost per book. So Amazon's surcharge of $1.99 actually looks like a bargain compared to that.
There seems to be a lot of confusion around who is going to be charged this amount and when. My understanding is that only customers with US shipping address would be charged extra $1.99 per book when travelling abroad. Customers from all other countries are never charged anything above the actual list price of the book no matter where they download it. However this is reflected in the book price which is $2.00 higher than for US customers.
Why Australian Kindle is sold without AC power adapter for charging when customers in all other countries get one?
No idea. My guess is that it has something to do with safety regulations in Australia.
Why blog subscription and experimental web-browser are turned off for my country?
Wireless data costs. You can easily use 1 megabyte of traffic just by viewing several Wikipedia pages. In fact homepage of this blog would amount to roughly one megabyte of data if you factor in all of the images. Since Amazon doesn't own wireless networks it has to pay for all this data. It would be too expensive for them as profits from book sales would not cover it.
My guess is that Amazon was able to strike some kind of special deal with wireless operators in Hong Kong, Mexico and Japan to make this work.
Why do newspapers and magazines come without pictures outside of US?
Same reason – wireless data costs. Images would increase the amount of data that needs to be transferred causing Amazon to loose money on subscriptions. Hopefully in the future when international wireless data becomes cheaper this should no longer be an issue.
Other questions or corrections.
Let me know if there are other questions that you believe should be covered in this FAQ. If you believe that some data became outdated or inaccurate – drop me a comment and I'll what I can do.