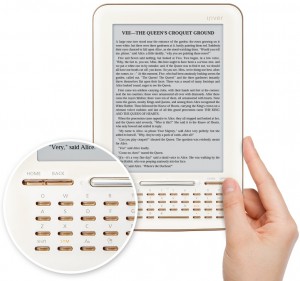 Every few weeks seem to hear something about a new eReader or Tablet PC that is destined to be a "Kindle Killer".  So far, no luck on that.  When it comes to the iRiver Story HD, I don't think anybody is likely to think of making that claim in the first place.  That doesn't in any way mean that it is a device without its virtues, worth taking a look at as a sign of future potential if perhaps little else.
Aesthetically, the Story HD looks like a cheap Kindle knockoff.  In practice, it still rather feels that way.  The Story HD has a cream front with a rather bland brown backing on it, but other than that, as pictured, the similarities are hard to ignore.  Sadly, this does not translate to a superior reading experience.
The feel of the device is a bit cheap, even without taking the dated color scheme into account.  The layout of the buttons is a bit strange, with there being no page turn buttons alongside the display like we are used to seeing in an eReader.  Even the directional control lacks a central button to select what you are pointing at.  Instead, you are expected to switch to the 'Enter' button.  On top of this, the QWERTY keyboard as a whole simply feels cheap and unusable.  Not huge inconveniences taken by themselves, but the accumulation gets a little bit much.
The major saving grace, although not an unqualified success in itself, is the display. It is a significantly higher resolution than the competition(768×1024), and is the first such E INK eReader display to make its way to the US.  Text is more detailed and you can fit more on the screen at once, should you be so inclined.  It just genuinely looks good, for the most part.  Unfortunately, that is not quite enough to make the reading experience a good once.  You are given no font choice, no margin or line spacing choice, and the contrast seems poor.  The font choice isn't too big a deal, to me at least, but the default margin that you're stuck with is basically non-existent and smaller fonts don't stand out enough compared to the competition.  Maybe this is attributable to the light color of the frame, which others like the Kindle have been moving away from, but I didn't have a white Kindle on hand to compare with.
An important thing to remember when looking at the Story HD is that this is not, properly speaking, a Google product and should not be viewed as such.  You can get an idea what an implementation of the Google Bookstore is like on an eReader from using it, but this is just the first Google compatible eReader.  If you get a chance to check it out, it is important to try to separate the problems with the hardware from the potential in the open platform.  While I can't say that I would recommend picking up the iRiver Story HD over something like a Nook or Kindle, the fact that Google has found its way to physical eReading devices rather than simply offering apps has the potential to finally make it a major contender.