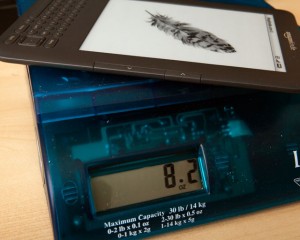 I've had some time to play around with my new Kindle 3 and to read what other users are saying so now I'm ready to publish this follow up with some of the information I've recently gathered of forgot to publish before.
In case you haven't read reviews I've published before, here they are:
Original Kindle 3 review (July, 29th)В – largely based on official Amazon press release, other online sources and personal speculations.
Kindle 3 review round-up from online media (August, 6th) – summary of opinions from sources like CNET, PCWorld etc.
Kindle 3 review (August, 28th) – my personal hand-on review of the device with battery life estimations, screen contrast comparison, partial disassembly and other useful bits of information.
One thing I would like to mention specifically is the weight. I weighted the device on a digital scale it showed 8.2 oz. At first I though that my scale was off but then reports and pictures started surfacing on forums indicating that Kindle 3G + WiFi weights as low as 8.1 oz and Kindle WiFi as low as 7.8 oz. Official Amazon specs indicate 8.7 oz for 3G + WiFi and 8.2 oz for WiFi only version.
Kindle 3 software
Kindle 3 runs software version 3.0 (515460094) and has serial number starting with B006 marking it as new hardware series. No surprise there. In the past Amazon has stopped updating 1.* firmware for first generation Kindles once Kindle 2 came out. Hopefully this is not going to be the case with Kindle software 2.* despite the fact that apparently Kindle 3 will clearly outsell Kindle 2 soon enough (more on that later).
Kindle 3 is much more similar to second generation Kindle than Kindle 2 was to original Kindle 1. Kindle 2 user base now is much larger than Kindle 1 user base was when Kindle 2 came out. It would be easier for Amazon to maintain one code branch than two (since it seems that 1.* software development is essentially non-existent). Unicode characters have been added to 3.0 software. Eventually books in Kindle store will start using these characters. It would be very bad PR for Amazon when people with older Kindles will start buying these books only to see empty boxes instead of characters. This is why I guesstimate that eventually 3.* software will make it to Kindle 2 and older Kindle DX devices. Perhaps it would be software 3.1 or 3.0.1
There are several new features in Kindle software 3.0 that I forgot to mention in the original review:
Device password. You can set a password that will be required to use the device every time it's turned on. Without the password it's impossible to access Kindle UI or Kindle USB drive. It's pretty useful if you keep sensitive work related documents on your Kindle. In case you forget your password, it is possible to completely reset the device deleting all stored information in the process.
Collections. Although these are not exactly new and have been around before Kindle 3, I've never taken the time to write about them and would like to point this feature out. Historically all Kindle books were piled in one flat list that was sorted by last-read date, title or author. Best way to navigate it was searching. Several months ago Amazon has introduced collections as a way to organize your library. A collection is similar to a tag as one book can belong to several collections (Sci-Fi, H. G. Wells, "Favorite Books", etc)
Manually setting device time. Previously Kindle relied on time information from 3G wireless network. Now you can manually set Kindle clock if you have WiFi-only version, don't have wireless coverage or live on a different time than your GSM provider.
Kindle 3 Unicode support
Kindle 3 finally got a font with broader range of Unicode characters. These include Cyrillic, Simplified and Traditional Chinese, Korean and Japanese. I've done some quick tests and to me it looks like characters are there. However I didn't do a full scale test of all possible characters from these planes. Some people on forums and in comments complained about poor support of Chinese and Korean but so far there has been little specifics.
There were some claims that non-Latin characters display the same in all typefaces. I've verified it and it does seem to be true for Asian characters and definitely not true for Cyrillic. Here are some screenshots showing different typefaces in Russian text.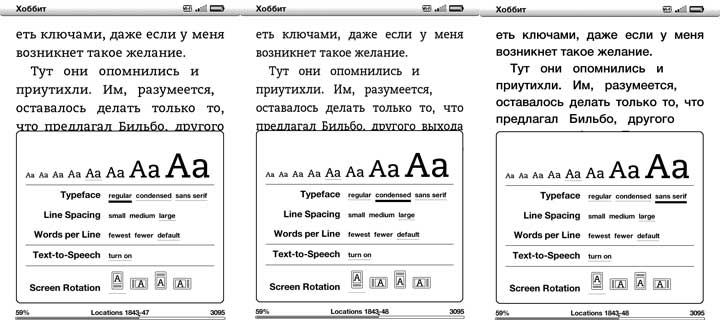 By the way, good way to download and format Unicode text files so that paragraph breaks would display properly and lines will not needlessly wrap is eBook Text Formatter tool that I've created a while ago. It still works great.
Kindle 3 WebKit-based browser
New web-browser in Kindle 3 is great. It can event load and run desktop AJAX version of Gmail (however using mobile version at https://m.gmail.com/ is still recommended as it's much faster). Some users reported problems with browser or apps. Kindle software would occasionally crash. It is generally believed that it's caused by background indexing process running alongside browser. Whenever new book, text file or document is downloaded to Kindle, it is indexed to provide almost instantaneous search results. This process is resource intensive and may conflict with web-browser or word game applications that are available for Kindle.
Therefore it is recommended to refrain from browsing while Kindle indexes new books. Usually this process is completed within minutes of downloading a book or a document. If you download hundreds of books at once it may take hours and seriously drain your battery. 75% overnight battery drain has been reported after downloading 100+ books.
In case your Kindle browser stops working completely ("launch browser" button does nothing or causes a crash), restarting your Kindle will fix this problem. To restart your Kindle press "Home", "Menu", select "Settings", press "Menu" and select "Restart". In case this doesn't work, holding the power button for 30 seconds and then releasing it does the trick. Please note that Kindle will not restart while you are holding the button. You need to press the button, slowly count to 30 and then release it. Within several seconds your Kindle will reboot.
Kindle 3 User Reviews
For some reason there were no user reviews for Kindle 3 on Amazon website until Saturday afternoon. Perhaps they were held in the pipeline for some reason. Now that reviews are finally in, you can check them out here.
For Kindle 3G + WiFi and Kindle WiFi there are 139 total reviews at the moment. Of these 104 gave Kindle 5/5 stars, 24 gave it 4 stars, 3 gave it 3 stars and 8 people were completely unhappy with their purchase and gave Kindle 3 one star. Since there so few one-star reviews, I took a look at them individually and here's the scoop:
I would like to start completely quoting review by Roger: "The ipad has so much more functionality, why anyone would want to limit themselves to a Kindle is beyond me." It doesn't look to me like Roger ever had or will have a Kindle. Nonetheless he's entitled to his own opinion and we'll leave it at that :)
3 people seemed to have received defective devices. I can understand how this can lead to a bad review, however every device has a potential of being defective. When I started building servers of the first batch of 8 HDDs from a major manufacturer 3 failed within 24 hours of stress testing. Bad luck, I guess because since I replaced these 3 and installed dozens more like them I'm yet to see a single hard drive fail. So given the overall volume of Kindles shipped, 3 reviews about defective devices is pretty good.
One reviewer was extremely unhappy with quality of Korean font glyphs. Kindle 3 Unicode support is something that I want to investigate further. I'll definitely report on it once I have the full story.
There is one bad Kindle 3 review dealing with new smaller buttons. Personally I liked Kindle 2 buttons more as well. New controller layout takes getting used to and judging by scarcity of negative reviews, benefits like WiFi and better screen greatly outweigh discomfort from smaller buttons. By the way there is a good old trick for reading from Kindle without having to use buttons at all: start text-to-speech, adjust the speech speed to your reading speed and then mute the volume. Pages will flip automatically.
User with "Book Worm" alias gave new Kindle 3 one star because he purchased Kindle 2 right before Kindle 3 was announced so the user ended up paying $259 for and older device rather than getting new one for $189. I can completely understand this frustration. Unfortunately Amazon doesn't have a specific schedule of "surprise" product launches like Apple when everyone expects new iPhone to be announced in Spring and release in the Summer. Such things happened in the past when international Kindle or graphite Kindle DX was released. While it's unlikely that anything can be done in this particular case, I would like to note that historically Amazon Customer support was quite flexible on 30-day return period. According to comments from several users you can get a refund (if the price dropped) or return your Kindle for a newer one up to one week after 30 days have passed from your purchase. But please don't tell Amazon that I told you this :)
Final bad Kindle 3 review has something to do with the way user set up his/her account rather than with the device itself so I'll not comment on it.
For these 8 negative reviews there are 128 positive reviews from people who are mostly extremely happy with their Kindle experience. Some highlights include:
Small size and weight are mentioned in almost every positive review (and even some negative onces)
Improved screen contrast and fonts is the second biggest thing mentioned in positive reviews.
People love new low $189 price point of Kindle 3G + WiFi and $139 of Kindle WiFi.
In the future I'll do a more detailed analysis of positive reviews and publish the stats here.
Kindle 3 Sales Numbers
On August 25th in the press release announcing early shipments of Kindle 3, Amazon also revealed that Kindle 3 is the best-selling product by four-week sales:
(NASDAQ: AMZN)в_"Amazon.com today announced that more new generation Kindles were ordered in the first four weeks of availability than in the same timeframe following any other Kindle launch, making the new Kindles the fastest-selling ever. In addition, in the four weeks since the introduction of the new Kindle and Kindle 3G, customers ordered more Kindles on Amazon.com and Amazon.co.uk combined than any other product, continuing Kindleв_Ts over two-year run as the bestselling product across all the products sold on Amazon.com.
In the summer and amid slowing economy Kindle 3 was able to beat international Kindle 2 launch that was tied to the holiday shopping season last year. This is quite impressive but not surprising when one considers improved specs and features, price that got slashed in half and amount of customer awareness generated by previous launches.