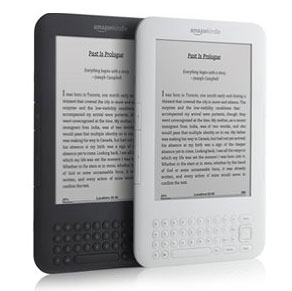 Update: Since Kindle 3 is released and I got some hands on experience with it, you should check out this Kindle 3 Review and this follow up post for more up to date information.
Since the original Kindle 3 release announcement I had some to carefully examine all of the news and press releases and compile this comprehensive Kindle 3 Review.
Although Kindle 3 rumors  have been circulating for some time, Fall 2010 was the widely anticipated release date. Rumors intensified when Kindle 2 became sold out on Amazon.com one day prior to the official announcement that came on July 28th, 2010.
In a nutshell Kindle 3 (although Amazon (NASDAQ:AMZN) never used this name) comes with following features:
Kindle 3 Screen
3rd generation Kindle comes with the same next generation eInk Pearl screen that is found in recently released Kindle DX Graphite but in 6″ form factor. The screen features the same 600×800 resolution with 16 shades of gray. Partially due to new screen technology and partially due to a software update, new Kindle will feature 20% faster page turns than the 2nd generation Kindle.
Kindle 3 Fonts
On top of some software improvements that made the default font look crisper, Amazon has introduced 2 additional font options: condensed Caecilia and Sans Serif. But what is more important, finally Kindle will natively support a broader range of characters:
Cyrillic used in Russian, Ukrainian, Belorussian, Bulgarian, Serbian, Tajik and dozens of other languages
Japanese
Traditional and simplified Chinese
Korean
Greek
This means that I can finally stop updating Kindle Unicode Font Hack that with time and numerous Kindle software and hardware update has become a conundrum of patches, jailbreaks and uninstallers. It also means that I would be able to republish Kindle Russian Dictionary using native Cyrillic characters rather than transliteration. Since it will not be the only book published with non-Latin characters, the updated font will inevitable make their way to all other Kindle versions.
Kindle 3 Size and Weight
Kindle 3 comes 21% smaller and 17% lighter than Kindle 2. You can select multiple eReaders (by holding the Ctrl key and clicking) from the list below to see how they compare by size.
As you can see, Kindle 3 is smaller than Kindle 2 but slightly larger than nook or Sony PRS-600. Both of these readers however lack keyboard that allows them to be more compact. PRS-300 is smaller still but it has a smaller 5″ reading area too so it wouldn't really be a fair comparison.
This reduction in size didn't come free though. Paging buttons are much smaller than they used to be and numerical keyboard row is merged with the top letter row the same way as it is on Kindle DX.
Kindle 3 Storage and Connectivity
Starting from 2nd generation Kindle Amazon has eliminated external memory card storage in their eReaders. Kindle 3 is no exception. Internal flash memory size has doubled compared to Kindle 2. Now entire line-up of Kindle readers features 4GB of internal flash memory for storing books. Not that it really matters: even without global 3G connectivity 2 gigabytes of text will take a very-very long while for anyone to read even with 20% faster page turns. 3G connectivity pretty much eliminates the need for large internal storage altogether barring the scenario of solo around the world sailboat trip.
So far WiFi has been a feature exclusive to Barnes&Noble nook until now. New Kindle will automatically take advantage of 3G WiFi hotspots if they are found nearby. This would provide faster download speeds, ability to download books in places without AT&T coverage and save Amazon money. Amazon used to pay $0.15 per megabyte downloaded to Sprint (and probably still pays similar amount to AT&T). I'm almost positive that it would be possible to configure Kindle to connect to any other wireless network – open or encrypted (provided you know the credentials).
There is a Wi-Fi only version. It is $50 cheaper and 0.2oz lighter. Personally I would prefer to pay $50 upfront for the convenience of being able to download books almost anywhere hassle free and automatically getting my periodicals without having to manually power-manage the WiFi or worrying about finding a hotspot. It should be possible to use Kindle WiFi together with Android phone (like Sprint EVO 4G) or any other device that acts as a mobile hotspot. Any way you look at it – WiFi is a welcome and long awaited addition to Kindle feature set.
Kindle 3 Battery Life
It looks like Amazon has pushed the battery life even further. Previous versions of Kindle used to work 7 days with 3G on and "several weeks" with 3G off. In my personal experience "several weeks" was 1 month. Now Amazon officially states 1 month of battery life with wireless off. So perhaps it would be even longer in reality.
Kindle 3 Browser
It was nice to be able to browser Wikipedia via 3G connection for free, but apart from that and running the Amazon Kindle Book store Kindle 2 experimental browser was hardly useful. The newest Kindle comes with new Webkit-based browser that hopefully would be more responsive and usable on websites with complex layouts. I own and actively use B&N nook and I can honestly say that nook browser is excellent. That being said I hardly ever use either Kindle or nook browser. 4″ smartphone screen offers much better browsing experience than 6″ eInk. eBook reader were built for linear reading and in this eInk excels. Web-browsing is a very random non-linear process. In all likelihood 4″ screen despite it's small size is going to contain less text than you are going to read before navigating to next page via some link.
Another novel feature – is 'browser article mode'. Kindle browser will use some experimental heuristics to eliminate everything but the main page text, distilling the web-page into something similar to newspaper article.
Kindle 3 File Formats
With new release the list of supported formats didn't change. AZW, TXT, PDF, PRC, MOBI, JPEG, GIF, PNG, BMP are natively supported. DOC, DOCX, RTF and HTML are supported via online conversion tool. This list may not be final since new formats (hopefully someday EPUB too) can be added via software update as was the case with PDF support on Kindle 2. Learn how to open open DOCX file, how to open DOC file, and how to open PDF file.
Kindle 3 PDF Support
The latest Kindle offers the same level of PDF support as Kindle DX Graphite. You can pan and zoom PDF files, annotate them and do dictionary lookups.
Other Kindle 3 Features
On top of all this Kindle 3 gets voice-accessible menus and microphone. Voice accessible menus (Kindle will read aloud all menu items) along with text-to-speech should take make Kindle a fully accessible device that can be used in a classroom.
As for the microphone. It is there but it is not mentioned in official specification. Therefore it's reserved for a future use. Most likely it will enable adding voice notes or recording classroom sessions. Some reviewers have speculated on voice-activated page turns and hands-free reading but I personally find such scenarios unlikely.
Social features like Facebook and Twitter integration and sharing favorite passages have carried over from previous Kindle versions. Personally I find "favorite passages" to be the most useful feature. It really adds to the book reading experience and is not intrusive. I have to confess that I selfishly use this feature while not highlighting any passages myself.
Final verdict
Should you buy Kindle 3? If you love reading – Hell, yeah! It's shaping up to be the best eReader as far a features to price ratio is concerned. Amazon has been developing eBook Readers for years now and each product they release is better that the ones before (which were good to begin with). Personally I already pre-ordered mine so you are sure to see a hands on review soon after I receive it.