A lot has been written on how Apple (NASDAQ:AAPL) iPad is not a Kindle-killer and I don't believe it is either. However with all major eBook stores represented on iPad in the form of apps it would be unfair to say that it is without eReader capabilities. This review aims to measure these capabilities and see compare them against eInk based devices such as Amazon Kindle and Nook.
eBook Selection
Given the fact some eBook selection at any store/device combo is still far from perfect, eBook selection is where iPad really rocks. There are many reading applications available for iPad that give you access to virtually any store that sells eBooks online: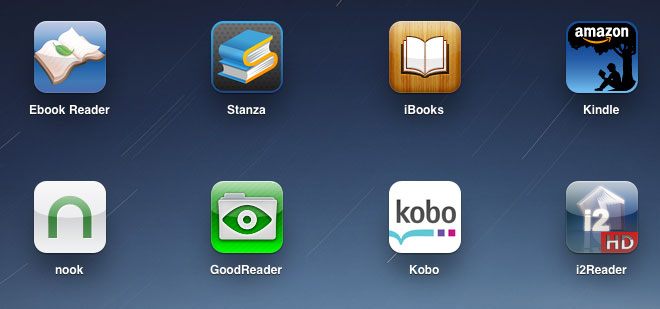 Apple iBooks – Apple branded book reading application that primarily gets books for Apple iBookstore. It can display ePub and PDF files. The only solid data on number of titles I was able to find was projected 60,000 titles at the time of iPad launch in April 2010.
Amazon Kindle for iPad – one of the many Kindle apps (iPhone, Android, Blackberry, PC, Mac) gives you access to the same selection of books Kindle eBook reader does – currently 692,000+ titles plus 1,800,000 public domain books.
Barnes & Noble Nook for iPad – B&N app that gives you access to all books (more than a million according to B&N) available to B&N Nook.
KOBO for iPad – ePub based application that gives you access books sold at kobobooks.com
Stanza for iPad – multipurpose eReader application that can get books from a number of sources and works with a number of formats.
GoodReader – it is actually more of a toolset rather than just eReader. I mainly use this app to download PDF, TXT and other files to my iPad directly rather than going via iTunes.
eBook Reader – Simple app that gives you access to a limited set of public domain books such as Beowulf, Mark Twain's works etc. The selection isn't great but it's simple and easy to use.
Apple iBooks Review
iBooks was positioned as one of the major features of the iPad. Even before iPad was officially announced it was considered to be Kindle-killer and even a product of the year by some. While iBooks is nice, Kindle-killing didn't come to pass as of yet.
First thing you see when you launch iBooks is bookshelf with one book on it – Winnie-the-Pooh by A. A. Milne. The first thing you see when you open this book is color illustration. The second thing you see as you start paging though the book are nice, pleasant, naturally looking page flipping animations. They are detailed enough that you actually see faint text from the other side of the page. Pretty nice and it immediately conveys in a powerful way a simple point: "LCD is not eInk". You may substitute "not" with "better" if you like.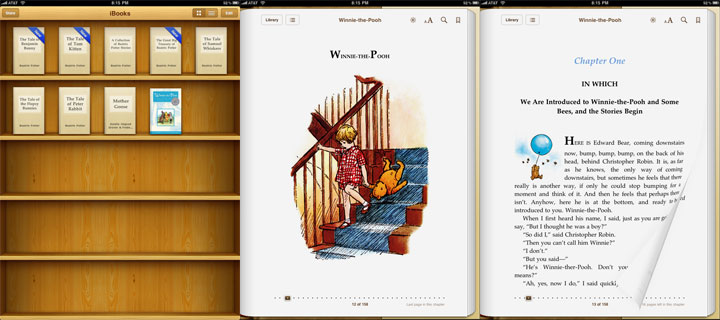 Apart from its flashiness, Apple iBooks has all the features good eReader application should have: selection of 6 fonts to choose from, multiple font sizes, search within a book, highlights and annotations, dictionary lookup, bookmarks, variable screen brightness and sepia options. When iPad is in landscape mode, iBooks automatically switches to a two page mode that for some irrational and aesthetic reason is very pleasing to my eye. In this mode iPad is just a notch smaller than a common paperback. In any reading mode pictures can be zoomed in to full screen.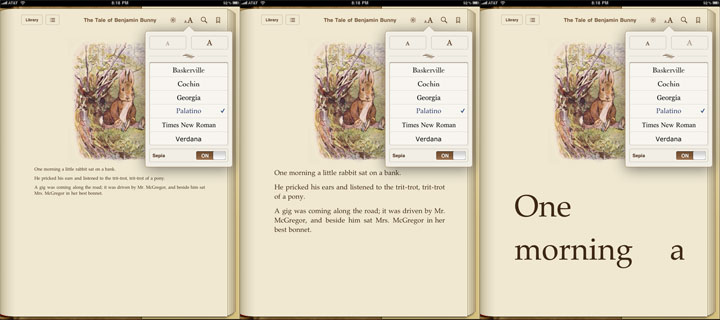 Another thing worth noting are Enhanced versions of some eBooks. These are books enriched with multimedia content such as audio recordings and video clips. A good example would be "Nixonland" by xxx that is enriched by newscasts and other video footage relevant to the book. Another example is "More Brothers Grimm Tales with video commentary. Nice and revolutionary as they are these books are few at the moment. Last time I looked I counted only 35.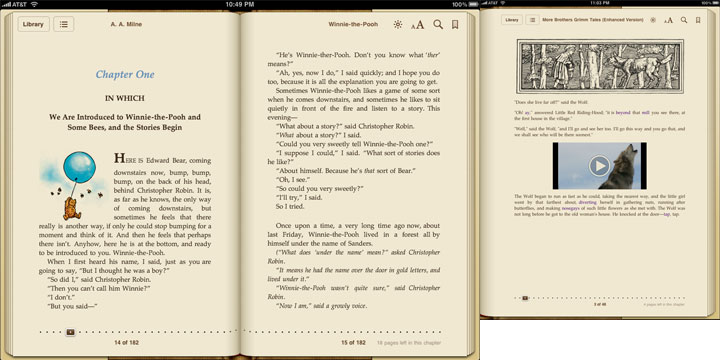 Although iBooks lacks text-to-speech functionality of Amazon Kindle it is somewhat replaced by VoiceOver that is generic accessibility feature of iPad. While it does read and provides accessibility I didn't find this feature too useful because you have to manually click on each line of text in order for iPad to read it which is not convenient at all and punctuation is really messed up because sentence boundaries rarely coincide with line breaks.
Amazon Kindle App Review
Amazon Kindle for iPad was available almost immediately after iPad was released. Though it you can buy and read all books that are available for Kindle eReader. Although Kindle owners are used to seeing black-and-white books on their eInk screens, on iPad books that actually have color in them are shown in color.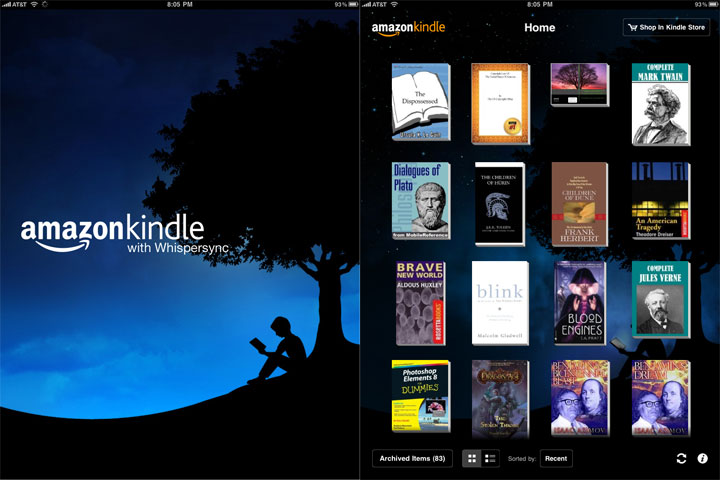 While the Kindle page flip animation is not as fancy as in iBooks, Amazon application offers a few features that Apple does not:
Apart from sepia option there is also "night mode" with text being displayed as white-on-black.
There is "back" button that allows you to retrace your steps though the book. iBooks can only go back once to the last location after navigating to table of contents.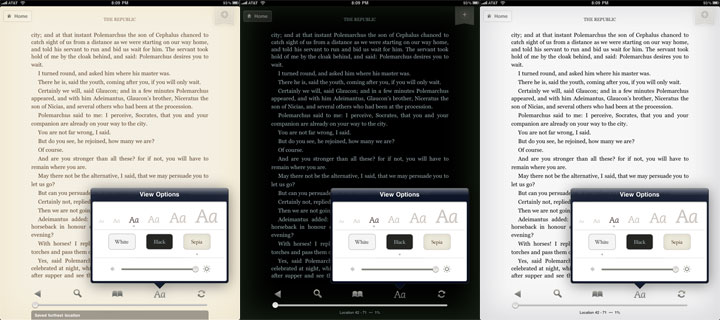 Customization options include 5 font sizes, 3 display modes (white, black and sepia) and variable brightness.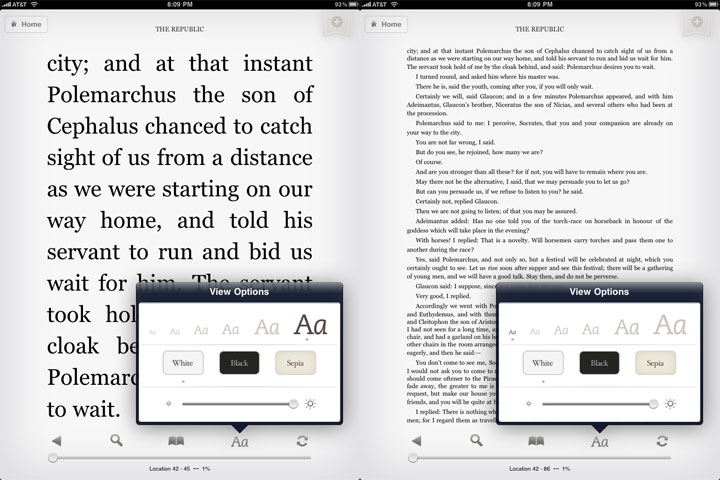 You can download any of the books that you've already purchased to your Kindle account and you can buy new one through the Amazon store which is loaded in Safari browser.
Amazon has come out with their own equivalent of "Enhanced Versions"  – "Kindle Edition with Audio/Video". These are books that contain multimedia content that can be viewed on Kindle for iPad/iPhone/iPod Touch. Currently there are 115 such books available.
Nook for iPad Review
Nook also has application for iPad thus making all Barnes&Noble books available on the Apple tablet.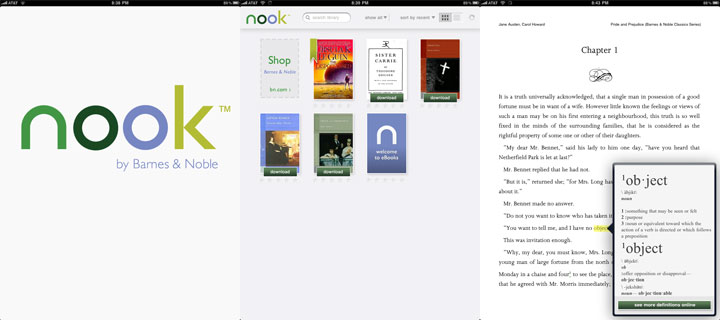 The app is a well written eBook reader. It offers more customization options that either iBooks or Kindle for iPad. There are five font sizes and five typefaces, four line spacing options, four margin settings and ability to turn full justification on or off. However what really sets the app apart from the rest is the ability to completely customize color palette and save it as a theme. For every book there are publisher presets that can be used or discarded.
Dictionary, google and wikipedia lookups are supported. So are highlights are annotations.
Kobo for iPad Review
Kobo app allows you to access content you've purchased in the Kobo bookstore.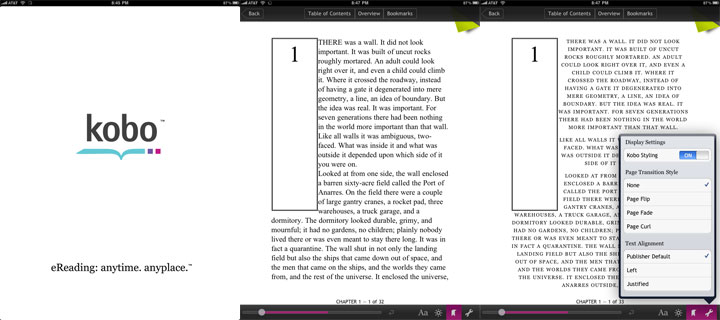 It offers customization options comparable to other eBook reader apps. However it lacks highlight, lookup and annotation support.
For some reason the book that I test purchased had words in ALL CAPS and centered text until I turned off "Kobo styling" option.
Other apps
There are many other smaller eReader apps for iPad that potentially expand book selection even further. I'll leave it up the reader to explore those.
Apple iPad Ergonomics
Weighing 26 oz, iPad is considerably heavier than Kindle 3 and even Kindle DX. Playing 8 hours of HD video on a single charge on a nice HD screen takes a lot of heavy components. Unfortunatly it makes it extremely uncomfortable to read with one hand or even with two hands for prolonged periods of time.
I've tried reading a book on iPad several nights in a row and constantly after about hour and a half of reading my hand would start getting numb.
Conclusion
iPad offers largest eBook selection because all major players in the industry released applications for it. Unfortunately reading these books for longer than 30 minutes is a very unpleasant experience. While it can display rich multimedia content it is dependent on daily battery charges unlike Kindle.
So if you like reading a lot – iPad will not be a substitute for a dedicated eInk-based eReader. I'd still pick Amazon Kindle or Nook to read books inth evening. I didn't buy iPad for its book reading capability but for accessing web and rich app content on the go. The fact that I can peek into my Kindle books or better yet read a B&N or Kobo book that is not available on Kindle without having to buy the hardware is a major plus for me.