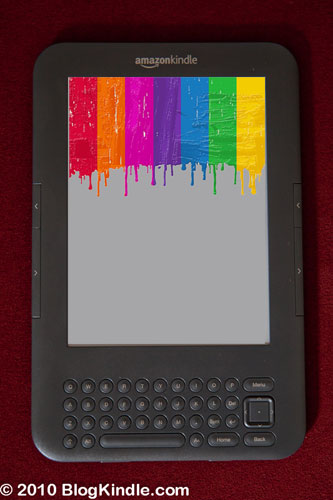 Color eReaders are getting more and more press as time goes on.  Now that we have the Hanvon release just months away, there's not really much room left to say that non-LCD color displays aren't ready for release into the market yet.  As such, it's pretty reasonable to expect that 2011 will see the release of a new Kindle.  Call it the Kindle Color, Kindle 4, or whatever you want…we already had a number of excellent ideas from readers about that in another post…it's all but to be taken for granted at this point.  What will we be getting along with it though?
Here are the major things I'm hoping to see when the time comes:
6″ Display w/ Higher Resolution

Yes, I know some people are clamoring for an increase in screen size and this isn't really any different from what we have now.  To me, the screen is the right size already, we just need better resolution.  Also, it helps keep the Kindle distinct from your average 7″ Tablet, which I can't help but feel is important.  eReaders have got to continue to stay their own category if we're going to avoid major compromise in quality in favor of more tablet/phone type features.
More User Customization
User-defined nested folders, personalized screen savers, more sorting options, an improves search function, basically anything that will make the process of using the Kindle move faster and more pleasantly so I can get back to reading on it.
EPUB Support
I know, fat chance, but we can dream, right?  It would save some people, myself included, loads of trouble on eBook conversion and it would make library usage finally possible.
Optional Color and/or Media Integration
One of the things that worries me about the new release is the potential for intrusive advertising.  I've already said that I think WOWIO does a pretty great job of avoiding that, but they're not the only ones out there.  Definitely wanting to avoid talking ads, horribly blatant product placement mid-text, and other such distracting things.  A setting to switch things to the classic Kindle monochrome would be great, just in case.
Restored Memory Card Slot
Much as this doesn't come up for me personally, I used to work for a company that was trying to use Kindles to help visually impaired kids get their reading done using Text to Speech and Audiobooks.  It worked pretty well, but you could only have so many Audiobooks at a time.  What if I wanted to load a whole school year's worth of audio books on for my kid or something?  I feel like that should be an option.  Which leads into the next point…
Improved Audio Controls
Let's face it, what we have now is a little sparse.  I'd like to see some improvements, perhaps even when it comes to song selection while reading?
That's all I've got for the moment.  Some of these are long shots, others might be already in the works for all I know.  There's some good discussion going on over in the Kindle web forum about exactly this topic.  Check it out and chime in with your opinions, if you have any.  The way I figure it, the more input Amazon gets on what its customers want, the better the product will be in the end.