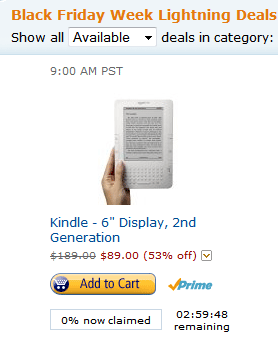 Well, the $89 Kindle Lightning Deal has come and gone, unsurprisingly leaving behind it a cloud of shocked customers, angry shoppers, and confusion as to what exactly was going on in the first place.  Some people are happy, having gotten themselves a new and extremely giftable Kindle for a great price, while most of us who showed up at 9am were at least mildly disappointed.  As always on days like this, there is some inclination to cry "Scam!" and express our displeasure in other equally vocal ways.  Let's take a moment first to look at the larger scheme of things and see if we can get a clear picture.
To begin with, it is useful to note that this was perhaps the most highly publicized Amazon sale of the year.  Not only was it clearly noted on the site itself, but they spread word via both Facebook and Twitter.  That means that the(as of writing this) 123,292 people following Amazon's sale page on twitter and 373,006 people who have hit the "Like" button on their Facebook page were all notified in advance.  Even setting aside the blogging community's spreading of this information(and there was certainly plenty of that), there's the potential right there for just under half a million people to know about this deal over a day before it happened.  The numbers should help put things into perspective a bit.  I'm not saying everybody who heard about the cheap Kindle through these sources was getting in line to try for one, but word of mouth and information spread further down the news chain almost certainly shored up the numbers significantly too.  There are a lot of people talking now about the Kindle vs Nook comparison(refurbished Nooks were on sale for $99 and didn't sell out nearly as fast), but let's face it, there wasn't nearly as much of an advertising push behind anything B&N was doing.
This doesn't mean that there was universal disappointment for aspiring Kindle customers, however!  Yes, people are upset and venting their frustrations as in the case of Amazon customer Grebewatcher, who was of the opinion that:
"Amazon knew it would be flooded with people wanting this product across the country. To have it NOT available from the SECOND it goes on sale is FRAUD. New laws are needed to govern this sort of sale situation. (And yes, I have done many auctions and understand that sometimes you can't get what you want. But to not even have enough for 5 minutes?! Two minutes?? ONE minute?!!!!! Bulls—.)
There are quite a few more carefully considered opinions being expressed, though, such as that of Emerald Coast:
From the information I can dig up, Amazon is the worlds largest online retailer in the world. I know many people in England, Ireland, Brazil and Iceland shop on this site. Two that I know of that live in England got the Kindles yesterday. If Amazon had 2000 units for sale, it is a no brainer to figure out how fast they would sell out….about 2 seconds.
People are being totally unrealistic. On the other hand, the odds truly were astonishing for some.
Think of it as purchasing a lottery ticket…….the odds of winning are slim to none, but there are winners.
Some people have even come forward to point out that they did, in fact, get lucky enough to get in on the deal and can therefore confirm that it was not a hoax.  Mostly these comments seem to be little more than confirmations that come people did indeed get what they wanted, like Chris Hillman:
I got one without too much problem. Was waiting like everybody else and it worked for me. Sooo at least they did have a few for sale…
While it is completely understandable for some people to be annoyed, these sales are intended to be analogous to the standard Black Friday Doorbusters sales that you might expect to see at any physical outlet.  The Black Friday FAQ in the upper-left corner of the deals page indicates for people that, as with your average retail outlet, quantities are limited and deals are short-lived.  Everything is first-come, first-served. Even more limited are the Lightning Deals, such as the one the Kindle was involved in, where things are expected to sell out so quickly that they actually instituted a short-term wait list that lasts until every one of the product being sold has made it through checkout.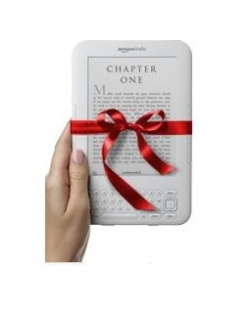 What it comes down to is that we can't claim the information wasn't out there.  It was clear from the start that this was meant to be a moment when demand would overwhelm supply by a fair amount.  I do believe that many, perhaps even Amazon themselves, were shocked by exactly how great the discrepancy between the number of Kindles and the number of Kindle buyers was, but that's often the case at sales like these.  The local Best Buy might have twenty of the amazingly priced computers they advertise, but you know there are going to be a couple hundred people lined up in the morning hoping to get those wristbands that will guarantee them a slot.  It's all about the luck of the draw.  In the meantime, you can still get the newest Kindle for only $50 more than the sale.  If you were in it for yourself, or even if you really like the person you were planning on giving the gift to, the Kindle 3 is a step up anyway.