Kindle Black Friday Deal just showed up on Black Friday Lightning Deals page on Amazon Black Friday home page. Deal should become active at 9am today. Here is a screen shot of the deal. You can click on it to go to the deal page (new price will become active only after 9am PST).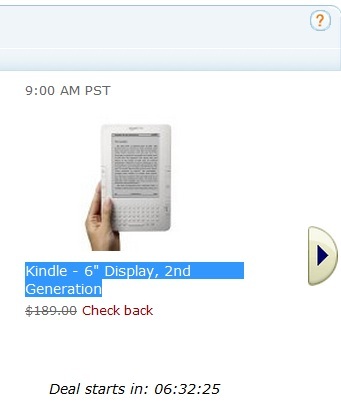 While this is the previous generation, that isn't saying much against it.  The Kindle 2 is a great, very reliable piece of hardware that would still stand up as competition against pretty much anything on the market.  It uses the same screen as the Nook eReader that was its ongoing competition, is nearly as compact as the current generation, and has access to all of the books, games, and applications(i.e. Facebook integration, web browsing, etc) that you would expect.  When it comes right down to it, you really can't beat $89 for a Kindle of any sort given that the equivalent competition is going for $149.
Now, of course there won't be enough to go around.  Heck, at this price I'd be surprised if they have enough second generation Kindles left in stock to satisfy the demand that this offer would be likely to generate if it weren't a "Lightning Deal" and therefore intentionally limited.  So set your alarms, keep a laptop close to your bed, make the kids do it…whatever it takes to keep from missing out.  It's always unpleasant waking up on the day after Thanksgiving, but this time there's a worthwhile reason that won't even make you stand in line freezing your butt off!
And of course, should you be out of luck on Kindle 2, you can always get the latest generation Kindle 3 with WiFi for $139.