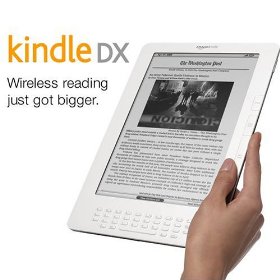 Remember me speculating about 9.7″ screen in Kindle 3? Well, the only difference is that it's called Kindle DX!
Today Amazon announced availability of Kindle DX: Amazon's 9.7″ Wireless Reading Device. It will start shipping sometime this summer and is available for pre-order now. As I'll definitely would like to write a hands-on review of it I'm preordering one right now…
2 major differences in Kindle DX compared to Kindle 2 are: 9.7″ 16 shades of gray eInk screen that runs at 1200×824 resolution and native PDF support. Other notable new features include iPhone-like auto-rotate and  flash-memory upgraded to 3.3 gigabytes.
Kindle DX is actually much anticipated "Kindle textbook edition". According to Wall Street Jounal Case Western Reserve University in Cleveland along with 5 other universities will start piloting Kindle DX as a universal textbook. With 4 major textbook publishers (Addison Wiley, Prentice Hall, Person and Longman) on-board long with several smaller ones it's expected that Kindle DX will have 60% of textbooks available when it ships. Larger screen would also be a bonus to people who are used to reading regular newspapers.
Here are all features and specifications of Kindle DX that I could dig up so far:
Size: 10.4″ x 7.2″ x 0.38″ (Kindle 2: 8″ x 5.3″ x 0.36″)
Display: 16 shades of gray eInk 9.7″ 1200×824 pixels (Kindle 2: 6″ 800×600)
Weight: 18.9oz (Kindle 2: 10.2oz)
Storage: 3.3GB (Kindle 2: 1.4GB)
Battery life: 4 days with 3G modem on, 2 weeks with modem off (really it's limited just by the number of page turns). This is pretty much the same as Kindle 2
Connectivity: 3G wireless modem, USB 2.0 port and 3.5mm audio jack