Now that I've had the chance to use both devices it's time for a small comparative review.
Let's compare their specifications side-by-side:
| Specification | Kindle DX | Kindle 2 |
| --- | --- | --- |
| | | |
| Size | 10.4″ x 7.2″ x 0.38″ (+86%) | 8″ x 5.3″ x 0.36″ |
| Weight | 18.9 oz (+85%) | 10.2 oz |
| Display Size | 8″ x 5.5″ (+164%), 9.7″ diagonal | 4.75″ x 3.5″, 6″ diagonal |
| Display Size Percentage | 59% (+20) | 39% |
| Display Resolution | 824 x 1200 (+106%) | 600 x 800 |
| PPI | 150 (-11%) | 167 |
| Usable storage | 3.3Gb (+136%) | 1.4Gb |
| Supported formats | AZW, TXT, MOBI, JPEG, GIF, PNG, BMP, MP3, AAX, PDF | AZW, TXT, MOBI, JPEG, GIF, PNG, BMP, MP3, AAX |
| Connectivity | EVDO 3G, USB, 3.5mm stereo mini-jack | EVDO 3G, USB, 3.5mm stereo mini-jack |
| Price | $489.00 (+36%) | $359.00 |
So for 36% more money you get double amount of display pixels, more than double storage and display area, less than double size and weight to carry around and native PDF support to boot. Sounds like sleek deal? Actually this depends on your lifestyle and usage patterns.
I mostly use Amazon Kindle for reading books and periodicals. Often I do it on the go. So for me Kindle 2 is ideal. It fits perfectly into my jacket pocket so I can always have it with me. So far I've had trouble filling 1.4Gb of K2 storage with books. In fact given average Kindle eBook size of 1.5Mb and price of $9.99 you need to spend $8,500+ on books to completely fill up flash memory on Kindle 2 before you'll need to archive books away. If you plan to stuff Kindle DX with books prepare to spend $20,000+
Screen size. Large screen looks nice. That's for sure. However 6″ screen of Kindle 2 is quite enough to read most of the content you would want. Kindle DX's screen is so large that if I got a little distracted while reading a book it would go into sleep mode before I can finish the page. Although DX is quite heavy it's still comfortable to hold and use, at least of a right-handled person that I am. However when I go out and want to have something to read between several appointments K2 wins hands down. If you are into comics or manga, large screen can come in handy as well. Ability to go to landscape mode can be useful with small fraction of books as well. It should also be noted that screen on Kindle DX seems to have better slightly better contrast and fonts seem to be heavier and darker.
Non-English books support. In Kindle 2 you can use my Unicode Font Hack to install international fonts. This way you can adjust the font size as you like while you read. The down-side is that it's a hack and although Droid fonts that I used contain a lot of characters, they don't contain them all. You can also browse international websites. With Kindle DX you can use one of the many options available for converting your book to PDF with embedded fonts and read it on your Kindle DX. You can't change the font size on the go but you can pick the right one to begin with when you convert the book. This doesn't solve the problem of international characters in websites however. (See update below) Technically the same solution was available for Kindle 2 as well – you could either convert books into batches of JPEG files or use Savory hack. However these solutions would not work too well because of the small screen size.
Update: Unicode Font Hack is now fully supported by Kindle DX. So on DX you can either go PDF way or replace default fonts and have non-English characters in .mobi, .txt files as well as converted documents and web-pages.
If you need to work with literature in PDF format especially the kind that has a lot of illustrations and math formulas – then you definitely need Kindle DX. There is no way any converter would produce decent results that will look good on K2 screen. Either the text will be too small or graphical contents will be messed up. You can take a look at side by side comparison of Kindle DX native PDF rendering and Amazon document converter processed document on Kindle 2.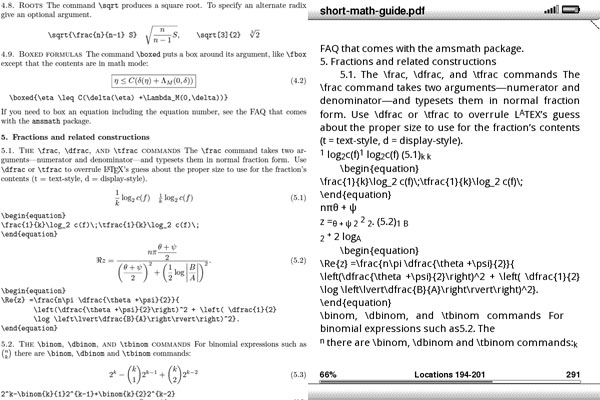 In this usage scenario Kindle DX absolutely rules. Perhaps Amazon should introduce configurable idle timeout option on the settings page as comprehending large page full of formulas can take a long time and the device will go into sleep mode.
Bottom line
If you like to read on the go and portability is important to you – go with Kindle 2. If you need to work with PDF files or graphically intensive content that K2 can't display properly because of lack of support or small screen size – go with Kindle DX.
In the perfect world we would have Kindle Touch that would be the same size as Kindle 2 but with 100% area used by eInk touchscreen with multi-touch pan and zoom that would support PDF and have WiFi connectivity on top of 3G for unrestricted browsing but then we would also have pocket-sized fusion, world peace and the answer to life the universe and everything…