A highly popular Kickstarter project that intends to release the first Android-based video game console has revealed some information recently that lends them a bit of credibility.  Muffi Ghadiali, known to come people as a Lab126 member and an important part of the Kindle's development team, has come forward as one of the OUYA project's main resources.
Admittedly, this is somewhat peripheral to Kindle news.  On the other hand, it's interesting and I feel like talking about it.  You'll have to bear with me here.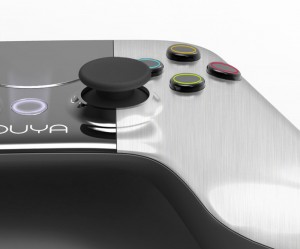 The OUYA console is gaining the attention of gamers and Android developers alike at the moment.  Their ambitious goal of $950,000 in 30 days has long since been exceeded.  At the moment they are expecting over $5,000,000 from backers.  The appeal is understandable, when you look at the goals of the designers.
Essentially, they intend to release an Android powered box that plugs into a television.  It will be an open platform, unlike other closely managed console projects enjoying popularity today, and cost comparatively little (backers who help fund the project before the end of the Kickstarter period on August 9th can get theirs for $99).
The open console aspect is particularly interesting, if also problematic.  Developers have almost total control over their product.  This means they can charge whatever they want for any part of their apps.  A free to play model is being encouraged, but any app that has a free demo available will be welcome.  Compare this to Amazon's Appstore for Android where developers wanting to release their work for the Kindle Fire will often have to wade through weeks of red tape just to issue a patch and it is easy to understand the appeal.
Of course this is just intention at the moment.  While there is some talk of app curation in the associated storefront, no real details are available yet.  They have just now begun working on the interface and such wider concerns are a way off.  When it comes time to start selling, however, they will have to balance customer satisfaction against developer freedom to avoid ending up with the same sort of malware proliferation that the Google Play store is just beginning to get under control.
What Ghadiali brings to the project is expertise and credibility.  The Kindle was an ambitious project that took off in a major way.  If somebody who was part of that says that the OUYA console also has a chance despite being in relatively early stages still, then it may be worthwhile to invest in the project.  His direction should help to ensure that realistic expectations are adopted and that quality is an important consideration every step of the way.
In some ways the OUYA console will be a direct competitor for the Kindle Fire.  It is intended entirely as a means of consuming games, but will also allow developers to sell their other applications.  Since a television connection will be mandatory, streaming video and other such visually impressive applications will enjoy a far superior experience in most cases.
It is hard to imagine a video game console having a major impact on the Kindle Fire given that it is a tablet, but they're both budget devices running Android that offer media consumption as their primary purpose.  It could be interesting to see how they interact down the line.