While the Kindle name is practically synonymous with eReading for many people, it has been confined largely to the US for a rather long time now and as such Amazon may have lost a chance to build the same momentum in other markets.  Much of what made them so successful was being the first company on the scene ready to get eBooks out there when customer interest began to stir.  The situation will be a bit different moving forward.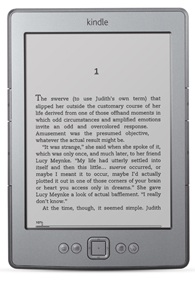 When it comes to international market coverage in eReading, Kobo is the name to reference.  They haven't had the same impact in the US that Amazon has managed with the Kindle, but the Kobo Touch eReader has been available in areas where a Kindle was hard to come by for quite a while now.  They have recently partnered up with WHSmith in the UK in an effort to gain more coverage.  The Kobo Vox, essentially their attempt to match the Kindle Fire or Nook Tablet, is just £149.99 (by comparison, the Kindle Fire is not even available).  That's not to mention the fact that Kobo devices are already available in 190 countries with expansion still ongoing, or the newly revamped  self-publishing platform that they are having some success with.
Sony is also making something of a comeback.  While they were possibly the first company to launch a major eReader line with the Sony PRS series, they have failed to stay relevant in recent years.  Their new Reader Store has finally opened (months behind schedule) in the UK and they have a fairly substantial presence in select other markets where the Kindle is just beginning to move in.
Even Barnes & Noble is going to be something of a threat, potentially, in specific international markets.  Well, one specific international market if they're lucky.  The much-reported partnership that the company has with Waterstones has produced very few results so far.  The partnership is still likely to happen, but they are taking their time about it.  This is most likely a matter of developing relationships for content to fill UK eBook stores with and could be held up at least partially due to the chance of the Agency Model being abolished in book publishing by ongoing lawsuits.  This would naturally have widespread implications.
None of this is to say that the Kindle won't be able to make it outside the US.  If anything, the international launch of the Kindle Touch and Kindle Touch 3G enjoyed such popularity that even Amazon was shocked.  Since the creation of a real, local Kindle Store in any given market is likely to be a major undertaking, however, anybody who has already got their store and device out there for customers is at a distinct advantage.  Amazon certainly has enough weight to throw at the problems they encounter, and they will do so without much hesitation as the recent small publisher negotiations prove, but it may be a long process at best with all the other big names already at work.