I was recently offered the chance to try out a pair of Plantronics BackBeat 216 headphones and figured they were worth a shot.  The Kindle Fire practically demanded good headphones to get good sound and while the Kindle Fire HD has more than made up for its predecessor's shortcoming there are still plenty of times when you're going to want to watch a movie on your portable device without filling a whole room, car, or train with the sound from it.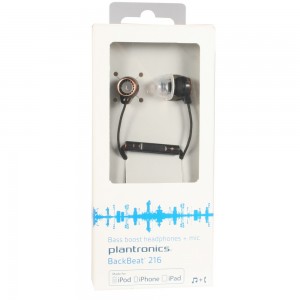 First Impressions
At a glance these seem to be a nice enough purchase.  For $37.99 they're not going to break the bank compared to high end options, but the build quality seems high and the cloth-covered wire makes a nice aesthetic touch.  The silicone earbuds left me slightly nervous since those are not my preference, but it was worth a try.
Listening Sound Quality
As far as earbuds go, I've rarely found a set that offered better sound.  They seemed quite tinny at first, but after changing to a slightly smaller set of silicon tips and seating them more firmly in place I found the experience excellent.  My usual listening preference involves a fairly bulky set of Sennheisers, but these could easily stand in temporarily when more mobility is needed.
Skype Sound Quality
My experience with the conversation applications of the BackBeats has not been so positive.  As far as hearing a conversation goes, you get a mixed bag.  The silicone earbuds cancel out a lot of the noise that otherwise interferes with calls, but the cloth wire transmits every bit of friction straight to your ears.  Shifting slightly in your chair can result in enough wire on shirt contact to drown out the person you're talking to.  The mic is also less than impressive.  Stick with the Kindle Fire HD's built-in and you'll get better recording.
Usability
As I mentioned, the comfort was better than expected.  For people with particularly small ears they will likely be uncomfortable, but other than that I would expect no complaints.  Using these for stretches of 3-4 hours at a time has caused no problems.
The in-line controls are useless.  I tried to use them on multiple occasions and got nothing.  Plugging in an iPhone, since that's what Plantronics was designing for, didn't improve things much.  I got erratic volume changes and track skipping on music but no reliability.  Overall it was actually better to use on anything but the iPhone it was designed for.
The Verdict
As far as listening to music or movies goes I don't hesitate to recommend these headphones to any Kindle Fire user.  The experience is more than worth the money and they will be kept with my tablet for as long as they last.
If you're looking for a headset with in-line mic for Skype then these probably aren't the best.  There is too much noise transfer when listening to conversation and the mic is not very good.  The noise from cable friction doesn't come through except in such quiet situations, so I don't think it's a factor for other applications.
If you're interested in these, the Plantronics BackBeat 216 Stereo Headphones w/ Inline Mic can be found with a large selection of other Kindle Fire HD Accessories at:
http://www.mobilefun.com/29053/electronics/kindle-fire-accessories.htm