Going on now through the end of June 8th, Amazon is offering a $20 discount on any Kindle Fire HD, Kindle Fire HD 8.9", or Kindle Fire HD 8.9" 4G if you remember to use the promo code "DADSFIRE" when you check out.  Supplies will probably hold out through the end, but you might want to get in early if you're interested.
There are a few things to keep in mind when you take advantage of this offer.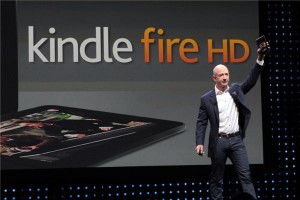 The most important is probably that each of these models includes Special Offers from Amazon and its affiliates.  These can be removed, but it requires a $15 fee to be paid in addition to the purchase price.
Not a huge problem, but it's worth being aware of since this is a sale centered on a gift giving holiday.  To be fair, the only time you're likely to notice the ads is when you're first turning on your tablet.  They mainly take up the lock screen.
It's also important to note that none of the Kindle Fire HD options involved in this sale come with their own wall charger.  They will instead have a Micro USB cord to connect to any convenient computer.  If you have a phone charger with a removable USB cord, chances are good that you can simply plug your Kindle into that using the included cord.  Amazon doesn't recommend that, but they're selling independent wall plugs for $20 apiece so they might be biased.
The hardest part of this deal is really just deciding which model is the right one.  They are all fine devices, but they excel in different ways.
The Kindle Fire HD is the obvious choice in terms of price.  $179 for the 16GB model is a great deal.  You get a highly portable tablet with a great screen and some of the best sound available for the best price anywhere.
Of course, the Kindle Fire HD 8.9" is even better in its own ways.  At just $279 you'll be able to pick up a significantly larger tablet.  Watching video on the larger model is much more pleasant, even if it means that you're not going to be fitting it into even the largest pockets.  The sound is also much improved here since the speakers are able to sit even further apart.
The Kindle Fire HD 8.9" 4G is basically the same thing.  It's a lot more expensive at $379, though.  Really this should only be considered if you're giving it to somebody who travels outside the range of wireless networks on a regular basis.  The extra $100 won't bring nearly as much benefit as you would think to most people.
While you're shopping for Father's Day, keep in mind that the Kindle is only as good as its media.  There are all sorts of books that are free or cheap enough to be easy to include with the tablet itself.  The app selection over at Amazon is also quite a bit more impressive than it used to be.  It's easy to make a good gift great with just a little effort.