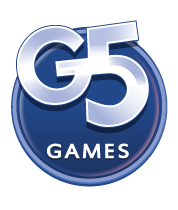 While it may not precisely stack up against Apple's recent announcement of their 25 Billionth App download, Amazon's App Store has a new success story in the form of Kindle Fire game publisher G5 Entertainment. They have recently announced their millionth download for Amazon's new table in a report that also listed the company's total downloads over the length of their business at over 40 million. G5 develops and publishes a fairly large selection of casual game selections for mobile platforms and PCs including both Android and iOS, and since the holiday season of 2011 has seen notable success in their releases specifically for the Kindle Fire. The same release from the company notes that six to eight of their first twelve releases are constantly present in the Amazon Appstore's Top 100 Paid Games.
We have had indications from some analysts for a while now that despite the added complications for app developers when dealing with Amazon's guidelines and review process, apps sold through the company's store are likely to make significantly more money than even in the general Android Marketplace. Considering other analyses regarding the Kindle Fire user's likely spending habits across the life of their device, it makes sense to specifically target this portion of Amazon's user base in an effort to efficiently appeal to the most profitable audience. If nothing else, the evidence of success in this case would seem to justify the approach.
While the Kindle Fire is not primarily a gaming console in the way Nintendo and Sony's portable video game systems are, there are a number of popular casual game genres that are easily adapted to the low power touchscreen device. In the case of G5, many will likely be familiar with their Hidden Object, Puzzle, or Time Management game. Their titles tend to favor an addictive but quick format that allows the user to step away as needed with no trouble and pick up again in a free moment without confusion. Perfect for the casual time waster, which fits the Kindle Fire's status as a media consumption catch-all.
It should be noted that at least one of G5's games was released as an Amazon Free App of The Day. While companies do not get reimbursed for these offerings, they often make an appealing option for publicity when properly exploited by the developer. This was an especially good move for once, since it allowed for the inclusion of the G5 Games Navigator as a portal for every customer to download the game. While it clearly opened the door to tens of thousands of downloads that did not directly earn the company any money, many of these were also from users that may not have taken an interest otherwise and who are now presented with suggested purchases in a move reminiscent of Amazon's own sales methods.
Learn how to open download file
.The Kindle Fire is going to be a big deal for some time to come, despite any potential competition arising in the near future. It is a big market for Amazon to tap and they are unlikely to let it slide away. News like this just helps to confirm for developers that there might be something to their product specifically besides as just another budget Android tablet. As we learn more about the next generation of Kindle Fire, chances are good that it will only get more distinct from the competition and hopefully this is a sign that it can be even more profitable in some cases.