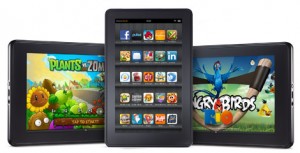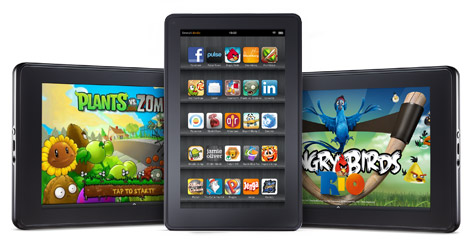 Android has seized a greater share of the tablet market than ever before in the last year, with fourth quarter usage of Android tablets up to 39% of the total (up from 29% the previous year).  A great deal of this improvement comes as a result of Amazon's Kindle Fire tablet.  With the whole tablet market seeing huge growth (including Apple's sales numbers we saw around 150% growth and a total of over 25 million tablets sold) it is no small feat for something as new as the Kindle Fire to already be edging ahead of more established competition.
These numbers deal specifically with device usage as reported by analytics firm Flurry, based on app sessions.  Given the importance of content sales compared to hardware profits, this is probably a significantly better estimate of consumer preference than simple sales or activations.  Thanks to this data, we can tell that the Kindle Fire's approach to content is making a pretty big difference to the user.
The alternative method of analyzing the success of the Kindle Fire would be along the lines of what Google has been doing when describing Android as building up momentum compared to the competition.  That would be looking at device activations.  While this is not misleading, necessarily, it does focus entirely on numbers that fail to directly equate to post-purchase satisfaction.  Even using this method, the Kindle Fire is doing amazingly.  Approximately 10.5 million android tablets were sold in Q4 2011.  While Amazon is not releasing sales numbers, we can say with a fair degree of certainty that around 5-6 million of those were Kindle Fires.  The numbers are favorable, to say the least.
While there is not any indication that this is having a negative effect on iPad sales, there is also little to support the notion that Amazon had any intention of making a direct attack on Apple with this first tablet.  It is likely, given how much the two companies overlap in their digital media sales markets that there will be some more direct Kindle vs iPad competition down the road, but a 7″ $200 tablet that clearly lacks the potential to replace even the functionality of a netbook is not something you could take seriously if they were heading for a confrontation with the iPad 2 right away.  Read how to open MSG file.
The biggest impact of all this is probably going to be on Google.  Since Amazon is running such a heavily forked version of Android, and since it lacks easy access to Google's app marketplace, the success of the Kindle Fire will tend to draw people away from Google services despite technically relying on their original concept.  This has the added effect of drawing developers away from the more general marketplace.
While Amazon's Appstore has not been a favorite destination for many developers thus far due to the heavy oversight and lengthy screening process for even minor updates, the most important thing will always be going where the customers are.  Right now, for better or worse, it is looking very much like that is the Kindle Fire if you're talking Android tablets.