Amazon's new Kindle Fire has been available for preorder since they first officially announced its existence several weeks back, and millions of people have jumped at the chance.  On November 15th, shipping begins and we should finally begin to see more hands-on user experience with what many are hoping will be the best thing to happen to tablets since the iPad.  Competitors have been springing up and existing products have had their pricing slashed to try to match what appears to be the new standard, but so far nobody has come close to drumming up this kind of enthusiasm over their product.
Prospective buyers who have not yet ordered their Kindle Fire have a couple options.  Chances are good that orders at this point will be delayed slightly due to overwhelming demand.  The numbers grew so quickly that Amazon reportedly was forced to increase production significantly.  They've done a good job of shipping out massive releases before with previous Kindles, but some things take time.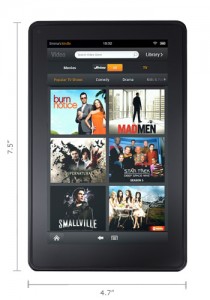 If you just can't wait, apparently some of Amazon's retail partners will be stocking the new tablet on release day.  Certain sources have indicated that the Kindle Fire will be on the shelves at Best Buy in limited quantities on Tuesday, just in time for the launch.  Online preorders through the websites of these vendors may or may be available immediately depending on unique situations, but at present Best Buy is indicating In Store Only as its purchasing option.  We have to assume that similar situations will prevail among Amazon's many Brick & Mortar partners.
The Kindle Fire is Amazon's new 7″ Color Multi-Touch Tablet featuring 8GB of storage (extended by Amazon's Cloud storage), Widescreen Display, 7.5+ Hours Battery Life, and access to the full range of Amazon services.  Users will enjoy the new Amazon Silk web browser, which reportedly speeds up internet browsing by as much as a factor of ten by anticipating your habits and making the servers do most of the work so that your device doesn't have to.  It weighs just 14.6 ounces, is less than half an inch thick, and remains approximately the size of the popular Kindle Keyboard eReader.
While the specs are not necessarily the most powerful, especially compared to the industry leading Apple iPad, they are enough to do everything the tablet is designed for.  From movie viewing to app use, reviewers who have gained early access to it have been almost universally pleased with performance.  The interface will also not be the standard Android front end that many might be used to.  Despite being based off of Android 2.3, Amazon has spent significant effort in creating a unique experience that both works efficiently and directly connects you to their store.  Anything you might want to purchase for the Kindle Fire is only a click away. Learn how to open BAK file.
We will try to keep you up to date on Kindle Fire news, information, and reviews as the week goes on.  Check back in for more information as we come across it.