I've been speculating here about Amazon's entry into the Tablet PC marketplace for months now.  Finally, we have the Kindle Fire to actually look at.  Sure it might not be here in person to play with yet, but what we know now is enough to come to some real conclusions for a change.  Obviously this new Kindle is going to have a big market, and has already been changing the way tablets are priced, but what will it really bring users that is worth the hype?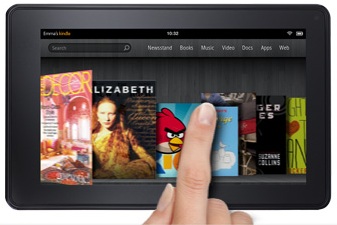 The first thing to do is figure out what you want from a Tablet PC.  To me, they are designed perfectly for passive computing.  That is, anything you choose to do that requires minimal user input, be that movie watching, reading, listening to music, or browsing the web.  I would not, for example, prefer to be writing this review on any tablet if I could help it.  It is nice to have the option to do things like play games or edit documents when necessary, but there are (and in my mind will likely always be) better-suited choices for those activities.  This assumption will color my perceptions here, and should you have other preferences my points might not make sense.
That said, I think that what Amazon is bringing to customers with the Kindle Fire is the cohesive media consumption experience.  Most passive computing tasks obviously revolve around media.  The Fire's default UI  highlights magazines, books, music, and videos without preventing more interactive usage.  It is an all-in-one platform for shopping and usage tightly integrated with the Amazon store.  That said, everybody will be using their tablet differently so it might be helpful to break down the potential uses and how they stack up for the price.
Video
This is clearly where Amazon has been going with the Kindle Fire.  Not only has the Amazon Instant Video service been significantly beefed up recently with selections from big names like CBS and Fox, but the Prime Instant Video streaming options are being highlighted through the bundled Amazon Prime membership preview every tablet will come with.  While I am a big fan of the benefits of the Prime membership anyway, right now it doesn't do much in terms of digital content distribution besides facilitate movie watching.
The Kindle Fire has a 7″ display with the same sort of wide viewing angle technology that the iPad makes use of.  It's supposed to be fairly anti-reflective, though that's something better inspected in person, and looks to provide a great picture.  Its local storage is sufficient for a few hours of video when you're away from reliable internet connections, and the streaming through the service has proven reliable on other devices already.  While it is a small screen and it would be nice if they had included some form of HDMI output, the video experience should be excellent.
Audio
There's not too much to say about the anticipated audio capabilities of the device.  It will have internal speakers and a headphone jack.  Music will be playable both from local storage and through the Amazon Cloud Player.  I think it is a safe assumption that the App Store will fill in gaps with things like Pandora and Last.fm, so selection and affordability probably won't be too much of an issue, and Amazon regularly runs promotions for free songs along with larger purchases if you happen to do much shopping through the main site.
Reading
There are two sides to the question of reading that have to be talked about.  First is the standard reading experience such as we are used to with existing Kindles.  This will almost certainly be less enjoyable on the Kindle Fire due to its back-lit display, but since it uses the Kindle Cloud Reader the experience will be familiar and enjoyable aside from that.
In addition, we finally have real color reading capabilities.  This means the Kindle Fire is the Kindle of choice for all sorts of things from Kid Books to Magazines that wouldn't work quite right on the monochrome Kindle.  Expect to see a big push with regard to these types of publications in the weeks leading up to the launch of the device.  Amazon has already got a number of deals going, including exclusive deals on a decent selection of magazines and comics.
Web Browsing
The big surprise at the press conference announcing the Kindle Fire was the Silk web browser.  It is essentially a modified Android browser that will offload most of the work to Amazon's servers.  This has the potential to speed up browsing significantly and may even reduce load on the device itself, increasing battery life.  The biggest advance that it brings to browsing is a predictive analysis of browsing habits that Amazon claims will speed things up even more by preemptively caching the data you are most likely to need next.  We'll see how it pans out, but it's a great idea in theory.
Applications
Beyond making the observation that the Amazon Android App Store already has a great selection of apps to choose from, there's not much point in talking about the app experience.  It's just too large a topic to generalize on.  From what we have seen, though, the Kindle Fire will be bundled in with an email app and document reader app, both of which seem to be capable of doing the job as well as might be hoped for while maintaining the overall theme of the OS.  Hard to argue with that.
Overall, this is a $200 tablet that seems to offer more functionality than anything else available for less than $500.  It isn't perfect.  There is no 3G option, the hard drive is small enough that people without reliable internet connections to take advantage of the cloud storage might want to think twice, and the fact that it is a first generation device might mean there are some bugs to iron out in the first months after release.  Even so, I'm of the opinion that the Kindle Fire offers great value for what it does and will make users very happy so long as they know what it can do and what they want out of it going into things.