We don't have any real way of obtaining solid sales numbers from Amazon with regard to the Kindle line.  They simply don't choose to make that information public.  Still, analysts are generally able to make decent guesses on how the devices are doing and where they stand with regard to the competition.  According to Cowen analyst Kevin Kopelman, things are not looking up.
Kopelman, who had previously estimated that sales of the Kindle Fire tablet in 2012 would hit approximately 14 million units, has lowered his estimates to 12 million.  He calls his previous numbers "unrealistic" in the wake of Google's strong competition.  Along with this revision, the Cowen analyst has revised his expected growth of the eReader side of the Kindle line from 30% to 3%.  Factors such as Amazon's focus on pushing the Kindle Fire to the exclusion of everything else and the long wait in getting a front-lit eReader to customers are cited as important considerations.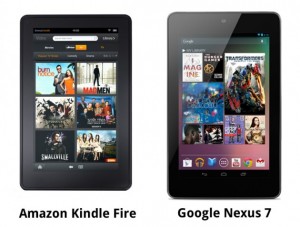 This may change depending on consumer reactions to the anticipated Kindle Fire update, of course.  We don't have any real information yet and it has to be assumed that Kopelman is similarly in the dark regarding the specifics of the new design.  This didn't stop him from mentioning the rumored iPad Mini in his analysis as a source of competition, but even imaginary Apple products often require special treatment at the moment.
The idea that the Kindle Fire will be completely wiped out by its Nexus 7 competition is far fetched at best.  If Amazon never released a hardware update to the current model, that might be possible.  As it stands, however, there is every reason to believe that significantly more is being done to make owning the next generation of Kindle Fire even better than owning the current one.
Add into that the benefits of the tablet's integration with Amazon services and you have a recipe for ongoing success.  To be fair, Kopelman's report doesn't disagree with this.  He simply indicates that another 7" Android tablet is taking up consumer attention.  That is going to happen.  Will Amazon always be the best selling brand in small tablet design?  Probably not, given their interest in creating devices for fairly narrow use cases.
Take this for what it is.  Amazon will still be doing just fine with their tablet sales, they just finally have some impressive competition at the same price point.  The Nexus 7 could be the Kindle Fire's Nook.  Competition always brings out the best in situations like this.  Short of somebody else coming in and completely destroying the budget tablet market, which is unlikely in the case of either Apple or Microsoft despite the impending release of Windows 8, Amazon is going to be invested in things here for the indefinite future.
That means more Kindle Fire sales, more features, and more reasons for customers to be interested.  This is a company known for its customer satisfaction, which makes it especially unlikely that they'll drop the ball on a major product push like this.