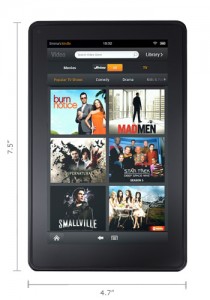 As many of you know, Amazon (NASDAQ: AMZN) has its own Android based app store that offers a free app every day.  The Kindle Fire is set to release on November 15 with a huge selection of popular apps including Pandora, Netflix, Facebook, and games from top gaming companies including Electronic Arts, PopCap and more.
Amazon is set to go with everyone's favorite apps right out of the gate.  That's pretty impressive considering how long it took the iPad to get a Facebook app.  But, in Amazon's case, a precedent has been set in the android market. Whereas the iPad was the first to enter the tablet market, and is the only tablet using Apple's app store.
EA and PopCap are known for high quality games.  A few favorites include Scrabble, Tetris, and Peggle.  Tetris has been a huge hit since the beginning of gaming systems.  Rovio is also on board, and they're the makers of the hit game Angry Birds.  What is a tablet without Angry Birds?
Netflix and Pandora are other top apps that are available across tablet and smartphone platforms, so they are a natural addition to the Kindle Fire collection. Amazon also has its own video streaming library for Amazon Prime members set to rival Netflix.  Pandora and Rhapsody are the major players in music apps.
As far as apps go, one niche that Apple has a good hold on is Accessibility.  There are apps for the iPad that serve as decent and much cheaper alternatives to assistive technology.  I just downloaded a magnfying glass and a recorder recently. There are also caption services, and so much more.  I haven't seen as much of this on Android systems, or on the Kindle in general.  It would be great to see apps that help people with vision, hearing, mobility, and learning disabilities.  Just another way to heat up the competition against Apple.
For more information on what popular apps will be available on the Kindle Fire, check out the latest Amazon press release.