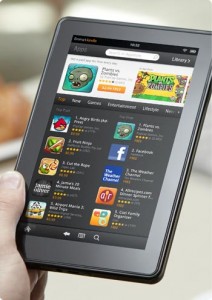 Nobody can doubt at this point that the competition for the tablet market has just gotten serious.  Apple has the iPad, which all things considered is probably the best thing on the market by a moderate margin, but now there are other options like the Kindle Fire which bring similar service for less than half the price of the cheapest Apple option.  As results have shown time and time again, though, it takes more than a lower price and a set of analogous capabilities and interface options to even out the competition.
To start with, yes the Apple iPad has superior hardware and a more polished experience overall.  It lags a little bit less, has a larger screen, and can go a bit longer in between charges.  Not a lot, but enough to notice.  It is, without hesitation, a great product that I enjoy using for just about anything besides reading.  Some people can even stand to do that on it.
That said, there are some problems with the overall experience.  Apple's App Store guidelines have cut off some of their most popular content providers and forced others to accept less than ideal situations, for example.  Mostly the problems are along these lines.  Apple put out great hardware, but their handling of the associated use, taken as a whole, can be troublesome.
This is where it is useful to turn to the Kindle Fire as a decent example.  Amazon is basically the first company to bring a functional, polished tablet to market so far that also had an App Store to make use of.  Not only that, they offer pretty much everything you might want to consume right there for download should you need it. They have even pulled the media experience to the front of things to try to make transitions more fluid and experiences more cohesive.
Where Apple focuses on Apps and their use, Amazon has chosen to bring media to the front and weigh apps as no more important than anything else being offered through the device's interface.  The full functionality is there, and there are thousands of major apps available for download that will provide any kind of content you can imagine, but it isn't the only option.  Documents, Movies, Books, Music, all get their own place alongside the Apps.  There isn't even a standard Android home screen anymore.
This is where Amazon went right, in my opinion, and why they are likely to be a serious competitor.  It isn't about the lower price tag.  That's nice, of course, but it only goes so far.  It's more that the Kindle Fire places the emphasis on what it was made to do without shoving it in your face.  It is made to consume certain content and will do so perfectly.  To get to something that might be less polished or run a little bit less well actually takes more steps out of the way to get to, if only slightly.
They made the decision to play to the Kindle Fire's strengths rather than make it a general purpose device that could be everything for everybody.  The Kindle vs iPad competition will come down to design philosophy more than simple processing power.